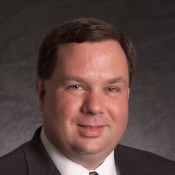 Steve Sponseller of Innovation Strategies is an intellectual property attorney and innovation strategist who has helped more than 1,000 innovators and business leaders develop and protect innovative ideas.
Listen to the podcast
Fail fast to succeed faster
Steve tells us that in the early stages of building Innovation Strategies he shared his idea with the "wrong" people who asked, "why would you do that?"  Ultimately he found the "right" people who asked the right questions and drew him and the business forward.
Tell us something good
Steve tells us how he helps business by empowering people to see that they are creative and that they do have great ideas.
Steve helps the business owner build culture of innovation.
Steve tells us that through his process, he has found ideas and inventions that can be patented.
The best part for Steve is that he has found that the environment in the business has changed for the better in the businesses he has worked with.
What's on your desk?
When Steve starts working with a new business, he makes sure that the top executives are on board.  He does this by explaining what is an innovation and giving them examples both big and small.  Ultimately they work with all levels of the business to brainstorm and capture the ideas for further evaluation.
Favorite Resource
AWeber.com for email distribution
An old school management system of writing down his top three "to-do's" on a pad of paper with the intention of having them done by lunch time.
Favorite Books:
Essentialism: The Disciplined Pursuit of Less The Way of the Essentialist isn't about getting more done in less time. It's about getting only the right things done. It is not a time management strategy, or a productivity technique. It is a systematic discipline for discerning what is absolutely essential, then eliminating everything that is not, so we can make the highest possible contribution towards the things that really matter. By forcing us to apply a more selective criteria for what is Essential, the disciplined pursuit of less empowers us to reclaim control of our own choices about where to spend our precious time and energy – instead of giving others the implicit permission to choose for us.
Thanks for Listening
This information is coming to you to inspire you and drive you forward. Be bigger than you know yourself to be! If you haven't already done so, please take a minute to leave a quick 5-star review rating and honest review on iTunes by clicking here.
Miranda McCroskey – host of Lawpreneur Radio