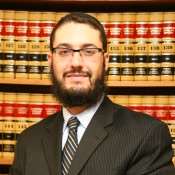 Michael Rubinstein is the owner of the Law Office of Michael E. Rubinstein, a solo personal injury practice located in Los Angeles, and serving clients in LA and Orange Counties. Prior to graduating from Loyola Law School in 2011, Michael was ordained as a rabbi by a panel of international rabbis, including the former Chief Rabbi of Israel. He brings this unique background and experience to representing his personal injury clients in the Jewish community and beyond.
Listen to the podcast
Fail fast to succeed faster
Michael tells us that one of his biggest mistakes was following the herd in law school and then after graduation, by just getting a job.  After a couple of years he figured out that he is really a Lawpreneur at heart.
Hear Michael discuss the problems of practicing "door law" and how it got in the way of him practicing the law that he really had an interest in.
Tell us something good
Listen as Michael explains how he found his first client at a bar mitzvah and was able to serve them very well.
What's on your desk?
Michael has Auto Accident cases, a sidewalk trip and fall and a premises liability case on his desk right now.
Michael tells us that he loves writing and has a blog Tort Talk on his website where he posts daily.
Michael is also a frequent contributor to the Jewish Home newspaper in Los Angeles as well as the Los Angeles Lawyer and Advocate monthly magazine.
Thanks for Listening
This information is coming to you to inspire you and drive you forward. Be bigger than you know yourself to be! If you haven't already done so, please take a minute to leave a quick 5-star review rating and honest review on iTunes by clicking here.
Miranda McCroskey – host of Lawpreneur Radio