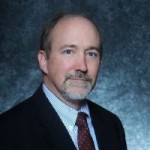 What supports a Lawpreneur?  Listen as Peter Meyers of  Farmers & Merchants Bank shares what  he provides to Lawprenuers, his  own entrepreneurial journey, and his advice to you.
Peter is a 30 year commercial banker with expertise in both working capital lending and commercial real estate lending. He also possesses outstanding knowledge of cash management and trust services. One of his specialty niches in the past decade has been banking services for legal firms ranging from sole practitioners to 25+ attorney firms.
Listen to the podcast
Fail fast to succeed faster
In 2004, Peter was applying for a Regional Manager position in the bank where he worked.  He was passed over for "new blood."  He then was challenged to go into a new office at that bank where he had to start from scratch.  That ended up being a lose-lose situation…but Peter learned and left to start up a community bank which was a great success.
Tell us something good
One of Peter's larger clients was a personal injury firm with a need for a good sized credit line.  During an FDIC audit the client was near the limit of their credit line which was a red flag.  However, Peter had solid historical financial records, a cash flow projection, and a global cash flow analysis.  The regulators actually complimented Peter for his sophisticated work.
That kind of creative structuring and analysis has helped Peter Meyers become of the most successful lenders in the Southern California community.
What's on your desk?
Peter most commonly serves lawpreneurs who have left larger firms and are starting up their own.
He has an expert ability to utilize the global cash flow model and write quality credit memorandum that tells the story and character of the new company
Peter explains how to approach a banker:

Bring your business plan
SWOT (Strengths, Weaknesses, Opportunities, Threats)
Projections
List of potential clients
Favorite Resource
Steve Brown's Banc Investment DailyThe Banc Investment Daily has been published in various forms for over fifteen years. This daily newsletter reaches an audience of over 25,000 people employed by financial institutions and regulatory bodies and has become a staple in the morning reading routine for bank executives nationwide.
Best Read
Bank Management

Closely examine the impact of today's changing, competitive environment on commercial banks and banking services, as well as the entire financial services industry, with Koch/MacDonald's BANK MANAGEMENT, 7E
Favorite Quote of the Show in a One Minute Clip
http://traffic.libsyn.com/lawpreneurradio/020_Peter_Meyers_clip_1_51_sec.mp3
Thanks for Listening
This information is coming to you to inspire you and drive you forward.  Be bigger than you know yourself to be! If you haven't already done so, please take a minute to leave a quick 5-star review rating and honest review on iTunes by clicking here.
Miranda McCroskey – host of Lawpreneur Radio