Business Books

The Hamster Revolution: How to Manage Your Email Before It Manages You (Bk Business)
Is email taking over your life? Meet Harold, an HR director so overwhelmed by email he feels like a hamster on a wheel. Just in time, Harold meets a coach who shifts his focus from time management to a simple yet surprising new way to manage email.
The Power of Focus Tenth Anniversary Edition: How to Hit Your Business, Personal and Financial Targets with Absolute Confidence and Certainty
More than 700,000 people around the world have been captivated by the simple, practical and profound strategies contained in the original bestseller, The Power of Focus. Now a decade later, authors Jack Canfield, Mark Victor Hansen and Les Hewitt have joined forces to create a special 10th Anniversary Edition of this enduring classic. Each of these masters of business and personal development provide a crystal clear picture of why your ability to focus is even more vital today in determining your future success.
The E-Myth : Why Most Small Businesses Don't Work and What to Do About It .  
In this expanded edition of The E-Myth, business guru Michael Gerber adds new information from both small and Fortune 500 companies to guide people through a business' developmental growing pains, showing them how to turn around a business that doesn't work into one that works in a predictable and profitable way.
The E-Myth Revisited: Why Most Small Businesses Don't Work and What to Do About It
In this first new and totally revised edition of the bestseller, The E-Myth, Michael Gerber dispels the myths surrounding starting your own business and shows how commonplace assumptions can get in the way of running a business. He walks you through the steps in the life of a business from entrepreneurial infancy, through adolescent growing pains, to the mature entrepreneurial perspective, the guiding light of all businesses that succeed. He then shows how to apply the lessons of franchising to any business whether or not it is a franchise. Finally, Gerber draws the vital, often overlooked distinction between working on your business and working in your business.
E-Myth Mastery: The Seven Essential Disciplines for Building a World Class Company
The bestselling author of phenomenally successful and continually vital The E-Myth Revisited presents the next big step in entrepreneurial management and leadership with E-Myth Mastery. A practical, real-world program that is implemented real-time into your business, Gerber begins by engaging the reader in understanding why the entrepreneur is so critical to the success of any enterprise, no matter how small or large it may be.
The E-Myth Attorney: Why Most Legal Practices Don't Work and What to Do About It
Many attorneys in small and mid-size practices are experts on the law, but may not have considered their practice as much from a business perspective.  The E-Myth Attorney fills this void, giving you powerful advice on everything you need to run your practice as a successful business.

Duct Tape Marketing Revised & Updated: The World's Most Practical Small Business Marketing Guide
John Jantsch shows you how to develop and execute a marketing plan that will give your business the life and longevity you knew you could have when you made that decision to go out on your own.
Selling the Invisible: A Field Guide to Modern Marketing
SELLING THE INVISIBLE is a succinct and often entertaining look at the unique characteristics of services and their prospects.

B4b: How Technology and Big Data Are Reinventing the Customer-Supplier Relationship
B4B seeks to frame what is possible in an age where suppliers are connected to their customers in real time.

Entrepreneur
 Ideas and innovations come to the forefront in every issue of Entrepreneur magazine. Aimed at business owners and influential decision makers, the magazine covers the people, places, and concepts that up-and-coming successful individuals need to know about.
Traction: Get a Grip on Your Business
In Traction, you'll learn the secrets of strengthening the six key components of your business. You'll discover simple yet powerful ways to run your company that will give you and your leadership team more focus, more growth, and more enjoyment.
The Wall Street Journal
Few newspapers enjoy the prestige and authority of The Wall Street Journal. The Wall Street Journal is where America starts its business day. This daily paper publishes the latest in news from the business and finance world. Additionally, it strives to connect current domestic and international news events to business fluctuations and market changes.
Experiment: The subtle differences in leadership, business and life that lead to change that profits.
Experiment brings Jevon Perra's 15 years of study on success and positive change through entertaining story and positive psychology. It makes clear the subtle differences in belief, leadership, business and life that make separate the millionaires from the wannabes, the miserable from the happy and the obscure from the significant contributors of our time.
Never Eat Alone, Expanded and Updated: And Other Secrets to Success, One Relationship at a Time
In Never Eat Alone, Ferrazzi lays out the specific steps—and inner mindset—he uses to reach out to connect with the thousands of colleagues, friends, and associates on his contacts list. And since its publication in 2005, the rise of social media and new, collaborative management styles have only made Ferrazzi's advice more essential for anyone hoping to get ahead in business.
Give and Take: A Revolutionary Approach to Success
For generations, we have focused on the individual drivers of success: passion, hard work, talent, luck. Today, success is increasingly dependent on how we interact with others. In the workplace, most people operate as either takers, matchers, or givers. Whereas takers strive to get as much as possible from others and matchers aim to trade evenly, givers are the rare breed of people who contribute to others without expecting anything in return
80/20 Sales and Marketing: The Definitive Guide to Working Less and Making More
The 80/20 Rule is an inviolable law of nature, which makes it the #1 organizing principle of every business. Perry shows how to laser focus the 80/20 Rule in outsourcing, hiring, publicity, controversy, market research, lead generation, and web traffic; online, offline and social media.
The Two-Income Trap
Harvard Law School bankruptcy expert Elizabeth Warren and financial consultant Amelia Tyagi show that today's middle-class parents are increasingly trapped by financial meltdowns. Astonishingly, sending mothers to work has made families more vulnerable to financial disaster than ever before. Today's two-income family earns 75% more money than its single-income counterpart of a generation ago, but has 25% less discretionary income to cover living costs.
All Your Worth: The Ultimate Lifetime Money Plan
In All Your Worth, Elizabeth Warren and Amelia Warren Tyagi, tell you the truth about money. They lay out the new rules of money — the ones nobody talks about. They show you how to get out of debt, cover your bills, and start getting ahead — without needing to carry a calculator everywhere you go.
Own the Room: Business Presentations that Persuade, Engage, and Get Results
Own the Room is written by a unique set of authors with the expertise perfect for creating vivid narratives. Own the Room shares how to excite your audience's emotions and intellect. And Own the Room will give you a communication toolkit to make any presentation lively, compelling, and memorable.
The Ultimate Question 2.0 (Revised and Expanded Edition): How Net Promoter Companies Thrive in a Customer-Driven World
Business loyalty guru Fred Reichheld revealed the question most critical to your company's future: "Would you recommend us to a friend?" By asking customers this question, you identify detractors, who sully your firm's reputation and readily switch to competitors, and promoters, who generate good profits and true, sustainable growth.
Setting the Table
Danny Meyer shares the lessons he's learned while developing the winning recipe for doing the business he calls "enlightened hospitality." This innovative philosophy emphasizes putting the power of hospitality to work in a new and counter-intuitive way: The first and most important application of hospitality is to the people who work for you, and then, in descending order of priority, to the guests, the community, the suppliers, and the investors.
The Trusted Advisor
This is a guide to professional success. In the modern world of business, it's all about the ability to earn the client's trust and thereby win the ability to influence them. In these high risk times, trust is more valuable then gold. This detailed resource book provides readers with the five crucial steps they need for developing, managing and improving client confidence.
Inc. (1-year auto-renewal) [Print + Kindle]
Inc. is the only major business magazine edited exclusively to guide CEOs and owners of small-to-midsize companies to success. Inc. provides fresh, insightful anaylyses to give the major players in the business world the tools they need to excel. Each issue, written by managerial gurus and experts, utilizes real life examples of strategies, case studies, and successes and failures edited specifically to illuminate new ways in which its readers can benfit. Big and small organizations alike turn to Inc. to make sense of ever-changing business world.
Harvard Business Review
For over 80 years, Harvard Business Review magazine has been an indispensable and unrivaled source of ideas, insight, and inspiration for business leaders worldwide. Each issue contains breakthrough ideas on strategy, leadership, innovation and management. Become a more effective leader by subscribing to Harvard Business Review.
How to Win Friends & Influence People
For more than sixty years the rock-solid, time-tested advice in this book has carried thousands of now famous people up the ladder of success in their business and personal lives. Now this previously revised and updated bestseller is available in trade paperback for the first time to help you achieve your maximum potential throughout the next century! Learn:
* Three fundamental techniques in handling people
* The six ways to make people like you
* The twelve ways to win people to you way of thinking
* The nine ways to change people without arousing resentment
How to Win Friends and Influence People in the Digital Age
An adaptation of Dale Carnegie's timeless prescriptions for the digital age. Dale Carnegie's time-tested advice has carried millions upon millions of readers for more than seventy-five years up the ladder of success in their business and personal lives. Now the first and best book of its kind has been rebooted to tame the complexities of modern times and will teach you how to communicate with diplomacy and tact, capitalize on a solid network, make people like you, project your message widely and clearly, be a more effective leader, increase your ability to get things done, and optimize the power of digital tools.
Jab, Jab, Jab, Right Hook: How to Tell Your Story in a Noisy Social World
New York Times bestselling author and social media expert Gary Vaynerchuk shares hard-won advice on how to connect with customers and beat the competition. A mash-up of the best elements of Crush It! and The Thank You Economy with a fresh spin, Jab, Jab, Jab, Right Hook is a blueprint to social media marketing strategies that really works.
The ONE Thing: The Surprisingly Simple Truth Behind Extraordinary Results
People are using this simple, powerful concept to avoid overwhelming distractions in their personal and work lives so they can focus on what matters most. YOU WANT LESS. You want fewer distractions and less on your plate. AND YOU WANT MORE. You want more productivity from your work. More income for a better lifestyle. You want more satisfaction from life, and more time. NOW YOU CAN HAVE BOTH—LESS AND MORE.
Tuned In: Uncover the Extraordinary Opportunities That Lead to Business Breakthroughs
If you market a product, service, or idea in any business, industry or organization, you must read Tuned In: Uncover the Extraordinary Opportunities That Lead to Business Breakthroughs, a guide to understanding and meeting the needs of consumers, whether or not they make those needs clear. An easy-to-follow six-step process developed over the past 15 years can help you address unsolved problems, recognize buyer personas, quantify impact and create breakthrough experiences.
Leadership Aikido: 6 Business Practices That Can Turn Your Life Around
The rapidly changing nature of today's business world requires that people possess strong leadership skills that can direct current trends in the workplace and handle potential problems with efficiency, intelligence, and diplomacy. Author and management consultant John O'Neil shows us how the concepts of aikido–the martial art tradition that stresses victory without harm–can be used as a lifelong business practice.
The Art Of War
Twenty-Five Hundred years ago, Sun Tzu wrote this classic book of military strategy based on Chinese warfare and military thought. Since that time, all levels of military have used the teaching on Sun Tzu to warfare and cilivzation have adapted these teachings for use in politics, business and everyday life.
The Millionaire Next Door: The Surprising Secrets of America's Wealthy
 The bestselling The Millionaire Next Door identifies seven common traits that show up again and again among those who have accumulated wealth. Most of the truly wealthy in this country don't live in Beverly Hills or on Park Avenue-they live next door.
Loopholes of the Rich: How the Rich Legally Make More Money and Pay Less Tax
Loopholes of the Rich helps Americans from all walks of life use the same tax loopholes that the wealthy use to lower their tax bill. With this handy guide, you won?t need an accountant to find quick and easy ways to pay less. And there?s nothing unethical about these tax loopholes. In fact, the government wants you to take advantage of them!
Smart Negotiating: How to Make Good Deals in the Real World
If you've ever tried to make a deal, reach an agreement, close a sale, or negotiate in everyday business, Smart Negotiating shows you how to avoid the pitfalls and achieve your goals.
James C. Freund is a skilled, seasoned lawyer who negotiates for a living, and the techniques he presents in Smart Negotiating have been proven effective in real-world bargaining situations
Made to Stick: Why Some Ideas Survive and Others Die
Why do some ideas thrive while others die? And how do we improve the chances of worthy ideas? In Made to Stick, accomplished educators and idea collectors Chip and Dan Heath tackle head-on these vexing questions. Inside, the brothers Heath reveal the anatomy of ideas that stick and explain ways to make ideas stickier.
Decisive: How to Make Better Choices in Life and Work
In Decisive, the Heaths, based on an exhaustive study of the decision-making literature, introduce a four-step process designed to counteract these biases. Written in an engaging and compulsively readable style, Decisive takes readers on an unforgettable journey, from a rock star's ingenious decision-making trick to a CEO's disastrous acquisition, to a single question that can often resolve thorny personal decisions.
Switch: How to Change Things When Change Is Hard
The primary obstacle to change is a conflict that's built into our brains, say Chip and Dan Heath, authors of the critically acclaimed bestseller Made to Stick. Psychologists have discovered that our minds are ruled by two different systems—the rational mind and the emotional mind—that compete for control. The rational mind wants a great beach body; the emotional mind wants that Oreo cookie. The rational mind wants to change something at work; the emotional mind loves the comfort of the existing routine. This tension can doom a change effort—but if it is overcome, change can come quickly.
Dead on Arrival: How to Avoid the Legal Mistakes That Could Kill Your Start-Up
This book by Roger Royse takes you through the legal mistakes that start-up companies and their lawyers make on their way to success and how to avoid making those mistakes. Some of those mistakes can be rectified, but many will result in your start-up company being Dead on Arrival when it looks for financing or acquisition opportunities. Knowing what those mistakes are and how to avoid them is essential to starting and building a successful company.
The Complete Idiot's Guide to Lean Six Sigma
Increasingly popular with large and mid-sized companies around the world, Lean Six Sigma is the new hybridization of Six Sigma and Lean methodologies, and there is no better approach for achieving operational excellence in an organization.
212: The Extra Degree
212° the extra degree captures the essence of excellence in an unforgettable way… At 211° water is hot. At 212°, it boils. And with boiling water, comes steam. And with steam, you can power a train. The one extra degree makes the difference. The 212° concept is illustrated through a clear introduction and then supported by a series of thoughts, examples, and facts that will help readers absorb the 212° mindset. Its purpose is to inspire the extra level of effort that produces exponential results. This book will encourage anyone who reads it to give that extra degree of effort…the extra degree that will produce exponential results.
The Lean Startup: How Today's Entrepreneurs Use Continuous Innovation to Create Radically Successful Businesses
Most startups fail. But many of those failures are preventable. The Lean Startup is a new approach being adopted across the globe, changing the way companies are built and new products are launched.
Micromotives and Macrobehavior
Micromotives and Macrobehavior was originally published over twenty-five years ago, yet the stories it tells feel just as fresh today. And the subject of these stories—how small and seemingly meaningless decisions and actions by individuals often lead to significant unintended consequences for a large group—is more important than ever
Built to Sell: Creating a Business That Can Thrive Without You
Most business owners started their company because they wanted more freedom and to eventually retire on the fruits of their labor.  Unfortunately, according to John Warrillow, most owners find that stepping out of the picture is extremely difficult because their business relies too heavily on their personal involvement. However, entrepreneurs can take specific steps—no matter what stage a business is in—to create a valuable, salable company.
Endless Referrals, Third Edition
In this fully revised edition, Bob Burg builds on his proven relationship-building principles to bring even more clients to your door and helps you attract only those who are interested in what you sell. He shows how to maximize your daily contacts, utilize your tools both online and off, leverage your relationships, and generate ongoing sales opportunities.
Branding Yourself: How to Use Social Media to Invent or Reinvent Yourself (2nd Edition) (Que Biz-Tech)
Want a new job or career? Need to demonstrate more value to customers or employers? Use today's hottest social media platforms to build the powerful personal brand that gets you what you want! In this completely updated book, Erik Deckers and Kyle Lacy help you use social media to attract new business and job opportunities you'll never find any other way.
The Snowball: Warren Buffett and the Business of Life
Here is THE book recounting the life and times of one of the most respected men in the world, Warren Buffett. The legendary Omaha investor has never written a memoir, but now he has allowed one writer, Alice Schroeder, unprecedented access to explore directly with him and with those closest to him his work, opinions, struggles, triumphs, follies, and wisdom. The result is the personally revealing and complete biography of the man known everywhere as "The Oracle of Omaha."
Business Development For Dummies
Business Development For Dummies helps maximise the growth of small- or medium-sized businesses, with a step-by-step model for business development designed specifically for B2B or B2C service firms. By mapping business development to customer life cycle, this book helps owners and managers ensure a focus on growth through effective customer nurturing and management.
Book Yourself Solid: The Fastest, Easiest, and Most Reliable System for Getting More Clients Than You Can Handle Even if You Hate Marketing and Selling
The new edition of the bestselling business development guide Book Yourself Solid, Second Edition reveals why self-promotion is a critical factor to success, giving you a unique perspective that makes this guide much more than an ordinary "how to" manual for getting more clients and raising a business profile
Getting Things Done: The Art of Stress-Free Productivity
In today's world, yesterday's methods just don't work. In Getting Things Done, veteran coach and management consultant David Allen shares the breakthrough methods for stress-free performance that he has introduced to tens of thousands of people across the country. Allen's premise is simple: our productivity is directly proportional to our ability to relax.
Selling Professional Services the Sandler Way:: Or, "Nobody Ever Told Me I'd Have to Sell!"
Years ago, developing and sustaining a book of business was not as big a problem for accountants, attorneys, financial planners, and other professionals as it is today. Clients were more loyal to the firms they worked with, and unlikely to shop your services, compare rates, or jump ship.
What Got You Here Won't Get You There: How Successful People Become Even More Successful
America's most sought-after executive coach shows how to climb the last few rungs of the ladder.
The corporate world is filled with executives, men and women who have worked hard for years to reach the upper levels of management. They're intelligent, skilled, and even charismatic. But only a handful of them will ever reach the pinnacle — and as executive coach Marshall Goldsmith shows in this book, subtle nuances make all the difference.
Lean In: Women, Work, and the Will to Lead
Thirty years after women became 50 percent of the college graduates in the United States, men still hold the vast majority of leadership positions in government and industry. This means that women's voices are still not heard equally in the decisions that most affect our lives. In Lean In, Sheryl Sandberg examines why women's progress in achieving leadership roles has stalled, explains the root causes, and offers compelling, commonsense solutions that can empower women to achieve their full potential.
The Greatest Salesman in the World
The Greatest Salesman in the World is a tiny book, and it is a treasure. Mandino's clear, simple writing style supports his purpose: to make the principles of sales known to a wide audience. A parable set in the time just prior to Christianity, The Greatest Salesman in the World weaves mythology with spirituality into a much needed message of inspiration in this culture of self-promotion. Mandino believes that to be a good salesperson, you must believe in yourself and the work you are doing. –Jodie Buller
Managing Online Risk: Apps, Mobile, and Social Media Security
In recent years, building a corporate online presence has become nonnegotiable for businesses, as consumers expect to connect with them in as many ways as possible. There are benefits to companies that use online technology, but there are risks as well. Managing Online Risk presents the tools and resources needed to better understand the security and reputational risks of online and digital activity, and how to mitigate those risks to minimize potential losses.
Online Security for the Business Traveler
Today's high-tech enabled businessperson travels with electronic devices such as smartphones, tablets, etc. These devices offer new levels of productivity and efficiency, but they also become the weak link in the security chain: if a device is lost or stolen during travel, the resulting data breach can put the business in danger of physical, financial, and reputational loss. This book provides an overview of this often overlooked problem, explores specific security issues, and offers practical advice on what to do to ensure business security while traveling and engaging in online activity. It is an essential reference guide for any travelling business person or security professional.
Buy-In: Saving Your Good Idea from Getting Shot Down
You've got a good idea. You know it could make a crucial difference for you, your organization, your community. You present it to the group, but get confounding questions, inane comments, and verbal bullets in return. Before you know what's happened, your idea is dead, shot down. You're furious. Everyone has lost: Those who would have benefited from your proposal. You. Your company. Perhaps even the country. It doesn't have to be this way, maintain John Kotter and Lorne Whitehead. In Buy-In, they reveal how to win the support your idea needs to deliver valuable results. The key? Understand the generic attack strategies that naysayers and obfuscators deploy time and time again. Then engage these adversaries with tactics tailored to each strategy. By "inviting in the lions" to critique your idea–and being prepared for them–you'll capture busy people's attention, help them grasp your proposal's value, and secure their commitment to implementing the solution.
iPad at Work
Great ideas and advice on using your iPad as a business tool! More and more iPad users discover every day that the versatile, portable iPad has countless business uses. From small businesses to high-profile corporations, companies are integrating iPads into their systems and workplaces at a phenomenal rate. Written by the acclaimed co-host of the Mac Power Users podcast, iPad at Work explores the best practices and software recommendations forincorporating the iPad into a work environment
Mac at Work
Bridge the gap between using a Mac at home and at the office Now that you love your Mac at home, you want to use one at the office without missing a beat of productivity or professionalism. This unique guide shows you how. You'll find best Mac business practices for handling word processing, spreadsheet and presentation creation, task and project management, and graphics. The book also explores topics such as hardware maintenance, how to synchronize with multiple computers, data backup, and communication with Windows networks.
The Empowered Manager: Positive Political Skills at Work
This is one of the most useful and clearly written books on the leading edge of management that I have read. – Warren Bennis — Peter Block, the author of the classic Flawless Consulting, is a true visionary. And here he turns his sights on management. Managers and other employees who feel powerless to control their own destinies, who feel stifled by bureaucracy, who feel sapped of creativity – will feel invigorated by Block's legAndary insight. Offers practical advice to help your managers: * Empower themselves to help shape the organization* Develop positive political skills in their dealings with all levels of employees* Take responsibility for their own actions* Negotiate with their allies and adversaries* Face failure courageously…and much more!
Buying Customers
Why do you need to read Buying Customers? "Buying Customers" is an innovative breakthrough in customer acquisition, lead generation, and customer service with proven strategies that consistently drive repeat business. Follow ActionCOACH Founder and Chairman Brad Sugars as he outlines tested methods for "Buying Customers" in ways you can immediately understand, use and apply. If you're just starting out in business, or are a seasoned entrepreneur, business owner or marketing professional, "Buying Customers" Will give you new insights and inspiration to boost your efforts in a way that turns all of your sales and marketing investments into guaranteed results!
The CEO Code
The CEO Code shows how to develop the attitudes, knowledge, skills, and behaviors required to master leadership and build a great company. This practical book shows you how to design your own program of development and create a masterpiece, personally and professionally. It is based on the wisdom gained from more than 30 years of business experience.
Inspirational and informative, Rohlander shares real-life stories of success and failure from his personal journey and work as mentor and coach to CEOs and executives of Fortune 500 companies, mid-sized companies, and start-ups.
Idiot's Guides: Management Skills
Being a manager is tough, and being a first-time manager is even tougher. Idiot's Guides: Management Skills is a hands-on guide to helping managers of all experience levels survive and thrive in the often murky and difficult world of management. Readers of all skill levels will benefit from this book. First-time managers will learn how to make the transition from peer to leader, how to formulate their own management style, the basics of managing people, how to recruit and hire key talent, and how to communicate constructively. Experienced managers will benefit from proven advice and techniques to help fine-tune their skills and deal with many of the most common problems that every manager is confronted with – from hiring and firing, to dealing with problem employees, to motivating and inspiring employees to be self-driven and successful. Along the way all readers will learn essential skills that will help them be more successful as a manager and employee.
Eleven Rings: The Soul of Success
During his storied career as head coach of the Chicago Bulls and Los Angeles Lakers, Phil Jackson won more championships than any coach in the history of professional sports. Even more important, he succeeded in never wavering from coaching his way, from a place of deep values. Jackson was tagged as the "Zen master" half in jest by sportswriters, but the nickname speaks to an important truth: this is a coach who inspired, not goaded; who led by awakening and challenging the better angels of his players' nature, not their egos, fear, or greed.
Sacred Hoops: Spiritual Lessons of a Hardwood Warrior
"Not only is there more to life than basketball, there's a lot more to basketball than basketball." –Phil Jackson. Eleven years ago, when Phil Jackson first wrote these words in Sacred Hoops, he was the triumphant head coach of the Chicago Bulls, known for his Zen approach to the game. He hadn't yet moved to the Los Angeles Lakers, with whom he would bring his total to an astounding nine NBA titles. In his thought-provoking memoir, he revealed how he directs his players to act with a clear mind–not thinking, just doing; to respect the enemy and be aggressive without anger or violence; to live in the moment and stay calmly focused in the midst of chaos; to put the "me" in service of the "we"–all lessons applicable to any person's life, not just a professional basketball player's.
The Last Season: A Team in Search of Its Soul
For the countless basketball fans who were spellbound by the Los Angeles Lakers' 2003–2004 high-wire act, this book is a rare and phenomenal treat. In The Last Season, Lakers coach Phil Jackson draws on his trademark honesty and insight to tell the whole story of the season that proved to be the final ride of a truly great dynasty. From the signing of future Hall-of-Famers Karl Malone and Gary Payton to the Kobe Bryant rape case/media circus, this is a riveting tale of clashing egos, public feuds, contract disputes, and team meltdowns that only a coach, and a writer, of Jackson's candor, experience, and ability could tell. Full of tremendous human drama and offering lessons on coaching and on life, this is a book that no sports fan can possibly pass up.
More Than a Game
More than a Game is the odyssey of Jackson's journey—from New York Knick and world champion, to CBA coach, to six-time Chicago Bulls world champion, to this year's L.A. Lakers world champion—and the lessons in leadership he learned each step of the way. It is the tale of Rosen's journey as well, carrying the torch for the game of basketball through careers as star college player, CBA coach, and preeminent novelist of the game. It is also the story of the system jackson coaches, the powertriangle, as put forth by Lakers assistant coach Tex Winter. The triangle can be understood as a philosophy of basketball and life—one that values role players almost as much as star players, and where fundamentals rule. More Than a Game is also a story of the friendship between Jackson and Rosen, forged in the sacred brotherhood of the hoop.
Eat That Frog!: 21 Great Ways to Stop Procrastinating and Get More Done in Less Time
Using "eat that frog" as a metaphor for tackling the day's most challenging task, Tracy shows readers how to zero in on these critical tasks and organize their time. He details 21 practical, doable steps to stop the procrastination treadmill and get more of the important tasks done.
Virtual Freedom: How to Work with Virtual Staff to Buy More Time, Become More Productive, and Build Your Dream Business
Virtual Freedom: How to Work with Virtual Staff to Buy More Time, Become More Productive, and Build Your Dream Business is the step-by-step guide every entrepreneur needs to build his or her business with the asset of working with virtual employees. Focusing on business growth, Ducker explains every detail you need to grasp, from figuring out which jobs you should outsource to finding, hiring, training, motivating, and managing virtual assistants
Just Me: A Business Woman's Personal Branding Guide
A collaborative effort by some of the leading visionaries, Just Me gives all women unique insights into the exceptional people they really are. Contributing authors include both organizational leaders and entrepreneurs, providing a branding perspective that addresses women's needs from multiple views. These women aren't just familiar with the branding challenges women face in the workplace; they put themselves right in the middle of the fight. Contributors represent organizations such as the Alliance for Women in Media, MBA Women International, American Business Women's Association, Collective Changes, American Women in Science, National Association of Female Executives, National Association of Women Business Owners and much more. These contributing authors have chosen to continue serving women by offering the lessons they've learned with branding and re-branding, all with the purpose of helping women find greater success with strategies that will span their whole career.
Why Employees Don't Do What They're Supposed To and What You Can Do About It
Based on the actual experiences of 25,000 managers, Why Employees Don't Do What They're Supposed to Do… gives you proven, straightforward methods that work on real jobs, in the real world. This results-oriented guidebook helps you handle the top 10 situations in which employees don't perform the way they should, including a detailed analysis of the causes and the plans for preventing the same problems down the road.
Influencer: The New Science of Leading Change, Second Edition
Whether you're a CEO, a parent, or merely a person who wants to make a difference, you probably wish you had more influence with the people in your life. But most of us stop trying to make change happen because we believe it is too difficult, if not impossible. We learn to cope rather than learning to influence.
Crucial Conversations Tools for Talking When Stakes Are High, Second Edition
The first edition of Crucial Conversations exploded onto the scene and revolutionized the way millions of people communicate when stakes are high. This new edition gives you the tools to: Prepare for high-stakes situations, Transform anger and hurt feelings into powerful dialogue, Make it safe to talk about almost anything, Be persuasive, not abrasive
Who Moved My Cheese?: An A-Mazing Way to Deal with Change in Your Work and in Your Life
With Who Moved My Cheese? Dr. Spencer Johnson realizes the need for finding the language and tools to deal with change–an issue that makes all of us nervous and uncomfortable.
Most people are fearful of change because they don't believe they have any control over how or when it happens to them. Since change happens either to the individual or by the individual, Spencer Johnson shows us that what matters most is the attitude we have about change.
Leadership and Self-Deception: Getting Out of the Box
Through a story everyone can relate to about a man facing challenges on the job and in his family, the authors expose the fascinating ways that we can blind ourselves to our true motivations and unwittingly sabotage the effectiveness of our own efforts to achieve success and increase happiness. Read this extraordinary book and discover what millions already have learned—how to consistently tap into an innate ability that dramatically improves both your results and your relationships.
Small Business Owner's Guide To Local Lead Generation: Proven Strategies & Tips To Grow Your Business!
With the right strategies and tactics, it's easy to attract and engage more ideal customers right in your backyard – and as a locally owned business, these are the only leads you really care about, anyway. People prefer doing business with folks they know, like, and trust – and they love being able to support local businesses in their own communities. "If you build it, they will come" only works in the movies. You need a simple, surefire way to market your small business… and one that won't break the bank or distract you from your primary role in your business.
The Power Principles of Time Mastery: Do Less, Make More, Have Fun
This thing called time: Everyone wants to manage it; everyone wants more of it! The problem is that we ve got all the time there is; and in the end, time simply can t be managed. Time just is. We can, though, become masters of our time. Drawing on his stories and experiences as a single parent, success coach, entrepreneur, trial lawyer, athlete and international adventurer, Walt teaches you the essential tools, tips and strategies – and the mindset – that will empower you to finally take charge of your time so that you can achieve your most cherished goals and dreams and enjoy unparalleled success. Read this book but only if you want to: Do less Make more And have a lot more fun Become a Master of your time today!
No Ordinary Disruption: The Four Global Forces Breaking All the Trends
Our intuition on how the world works could well be wrong. We are surprised when new competitors burst on the scene, or businesses protected by large and deep moats find their defenses easily breached, or vast new markets are conjured from nothing. Trend lines resemble saw-tooth mountain ridges. The world not only feels different. The data tell us it is different. Based on years of research by the directors of the McKinsey Global Institute, No Ordinary Disruption: The Four Forces Breaking all the Trends is a timely and important analysis of how we need to reset our intuition as a result of four forces colliding and transforming the global economy: the rise of emerging markets, the accelerating impact of technology on the natural forces of market competition, an aging world population, and accelerating flows of trade, capital and people.
Rise of the Robots: Technology and the Threat of a Jobless Future
What are the jobs of the future? How many will there be? And who will have them? We might imagine—and hope—that today's industrial revolution will unfold like the last: even as some jobs are eliminated, more will be created to deal with the new innovations of a new era. In Rise of the Robots, Silicon Valley entrepreneur Martin Ford argues that this is absolutely not the case. As technology continues to accelerate and machines begin taking care of themselves, fewer people will be necessary. Artificial intelligence is already well on its way to making "good jobs" obsolete: many paralegals, journalists, office workers, and even computer programmers are poised to be replaced by robots and smart software. As progress continues, blue and white collar jobs alike will evaporate, squeezing working- and middle-class families ever further. At the same time, households are under assault from exploding costs, especially from the two major industries—education and health care—that, so far, have not been transformed by information technology. The result could well be massive unemployment and inequality as well as the implosion of the consumer economy itself.
The Brand You 50 : Or : Fifty Ways to Transform Yourself from an 'Employee' into a Brand That Shouts Distinction, Commitment, and Passion!
Michael Goldhaber, writing in Wired, said, "If there is nothing very special about your work, no matter how hard you apply yourself you won't get noticed and that increasingly means you won't get paid much either. In times past you could be obscure yet secure — now that's much harder." Again: the white collar job as now configured is doomed. Soon. ("Downsizing" in the nineties will look like small change.) So what's the trick? There's only one: distinction. Or as we call it, turning yourself into a brand . . . Brand You.
Plant Your Online Biz Money Tree
A truly comprehensive guide to starting your online business, growing your business online, and expanding your business online! If you plan to be online in any way, and you should be, then this book is a must buy! Before you spend another dollar.
Local Search Marketing Secrets Unveiled
Save thousands of dollars in expenses and opportunity cost by avoiding getting ripped off by unscrupulous vendors offering local search marketing.
The Challenger Sale: Taking Control of the Customer Conversation
Based on an exhaustive study of thousands of sales reps across multiple industries and geographies, The Challenger Sale argues that classic relationship building is a losing approach, especially when it comes to selling complex, large-scale business-to-business solutions. The authors' study found that every sales rep in the world falls into one of five distinct profiles, and while all of these types of reps can deliver average sales performance, only one-the Challenger- delivers consistently high performance.
Adversaries into Allies: Master the Art of Ultimate Influence
Drawing on his own experiences and the stories of other influential people, communication expert Bob Burg offers five simple principles of what he calls Ultimate Influence—the ability to win people to your side in a way that leaves everyone feeling great about the outcome. In the tradition of Dale Carnegie's How to Win Friends and Influence People, Burg offers a tried-and-true framework for building alliances at work, at home, and anywhere else you seek to win people over.
The Celebrity Experience: Insider Secrets to Delivering Red Carpet Customer Service
The Celebrity Experience combines the best practices of the business world with those of the celebrity world to create a practical and proactive guide for anyone who wants to bring their business's internal and external customer service to the level of star treatment. Based on the unique ways celebrities are treated, the book shares techniques you can use to treat your customers to a red-carpet experience, guaranteeing repeat business and stellar word of mouth.
For Lawyers
Solo by Choice: How to Be the Lawyer You Always Wanted to Be
"Solo By Choice is a much-needed manual. (It contains) so much information that it ought to be required reading, and everyone from seasoned veterans to law students will find something in this book they knew little or nothing about … or were totally misguided about. Regardless the stage of your legal career, buy this book. It's filled with great information aggregated in one-easy-to-read collection." — Susan Cartier Liebel, solo practice consultant
How to Start & Build a Law Practice (Career Series / American Bar Association)
How to Start and Build a Law Practice has been used by tens of thousands of lawyers as the comprehensive guide to planning, launching, and growing a successful practice. Author Jay G Foonberg, has packed this book with over 600 pages of guidance on identifying the right location, finding clients, setting fees, managing your office, maintaining an ethical and responsible practice, maximizing available resources, upholding your standards, and much more.

How to Start & Build a Law Practice (Career Series / American Bar Association)
Jay Foonberg. A classic ABA bestseller, How to Start and Build a Law Practice has been used by tens of thousands of lawyers as the comprehensive guide to planning, launching, and growing a successful practice.
Personal Branding in One Hour for Lawyers
How do lawyers stand out from their fellow practitioners and get jobs, promotions, clients, and referrals? Katy Goshtasbi explains how attorneys can highlight their unique talents and abilities, and achieve greater success as a lawyer in the process.
The Reluctant Rainmaker
The days of having a practice supported by being a "great lawyer" are gone forever. In today's economy, every successful private practice lawyer is a rainmaker who consistently implements an effective plan for building a full pipeline of new business.
Run Your Firm Like a Business: An Operational Guide for the Solo Practitioner and Small Law Firm
Use Run Your Firm Like a Business to address the challenge of practicing law while managing the administrative and business demands of your practice.
The Power Of A System: How To Build the Injury Law Practice of Your Dreams
When you work for someone else, you don't control your future. Your boss decides how much money you make and how many hours you work. For many, the law is just a job that you do to make ends meet and pay the bills. This book will show you how to change that.
Win Your Case: How to Present, Persuade, and Prevail–Every Place, Every Time
In Win Your Case, Spence shares how to win in any arena where a case is to be made against adversaries who oppose the justice you seek. Spence shows both lawyers and laypersons how you can win your cases as he takes you step by step through the elements of a trial.
The Lawyer's Guide to Professional Coaching
The Lawyer's Guide to Professional Coaching will teach you to find, select, and work productively with the right coach for your needs–and transform your practice in the process. Learn how to get the most out a coaching relationship.
The Happy Law Practice: Expert Strategies to Build Business While Maintaining Peace of Mind
Is it really possible to be a Rainmaker AND have peace of mind? . . . We think so! The Happy Law Practice offers guidance on essential business development skills without sacrificing work-life balance. Twenty-one lawyers and entrepreneurs of varying expertise use their combined knowledge in law, business development, well-being, and more to bring you tips and strategies on how to make your business flourish and keep your stress levels low during the process.
The Unhappy Lawyer: A Roadmap to Finding Meaningful Work Outside of the Law
The Unhappy Lawyer will help you uncover exciting alternative careers with a unique step-by-step program that will make you feel like you have your very own career coach. With chapters containing real letters from lawyers who are desperate to leave the practice of law, tales from lawyers who have shut the door on their legal careers, and powerful exercises, The Unhappy Lawyer provides a witty, no-nonsense road map for finding and pursuing engaging work outside of the law.
The Reluctant Rainmaker: A Guide For Lawyers Who Hate Selling
It's no longer enough to just be a good lawyer. To thrive in this new economy you must also understand the business of law. You must learn how to "make it rain." You must become a rainmaker. What is a rainmaker? Rainmakers are the ones who help bring the money into your firm. The ones who help bring in the new clients. The ones who keep your potential client pipeline full. Rainmakers help practices succeed. If you aren't a rainmaker now, it's time to get moving.
California Bar Performance Exam [MPT] Prep
California Bar Exam Prep for the Performance Exam with this Proven Technique for a thorough, complete, organized passing answer Every Time!
Tomorrow's Lawyers: An Introduction to Your Future
In his newest provocative and forward-looking volume on the legal profession, Richard Susskind-the best-selling author of The End of Lawyers? and The Future of Law-predicts fundamental and irreversible changes in the world of law. What Susskind sees is eye-opening-a legal world of virtual courts, Internet-based global legal businesses, online document production, commoditized service, legal process outsourcing, and web-based simulated practice. Legal markets will be liberalized, with new jobs for lawyers and new employers too.
Elder Law Answer Book 3rd Edition
Written by nationally-known elder law practitioners, Robert B. Fleming and Lisa Nachmias Davis, the Elder Law Answer Book gathers the most current legal, regulatory, and practice guidelines from the core topics of elder law, long-term care, estate planning, retirement planning, healthcare decision making, and rights of the elderly — and presents this information in a thoroughly integrated, easy-access reference.
A Practical Guide to Federal Evidence: Objections, Responses, Rules, and Practice Commentary
Whether in moot court or trial, A Practical Guide to Federal Evidence will guide you to mastery of making and responding to evidentiary objections. Objections and their responses are grouped by subject category of the objection for easy location. The extensive practice commentaries given for each objection will help you understand the application of the Federal Rules of Evidence in practice and enable you to deal with the common issues that arise.

Lawyer, Know Thyself: A Psychological Analysis of Personality Strengths and Weaknesses (Law and Public Policy)
This work reviews 40 years' worth of empirical studies on lawyers and law students and how to identify themselves with the profile and personality of the typical lawyer. If they do not fit this profile, the book suggests how atypical lawyers can practise law most successfully.
The Lawyer's Field Guide to Effective Business Development
This is a practical business development and sales skills handbook that helps lawyers obtain additional business for their firms. Author Bill Flannery, a recognized leader and true pioneer in legal business development, helps lawyers identify the skills needed to increase client loyalty, increase business from loyal clients, and become the client's trusted advisor.
The Moral Imagination: The Art and Soul of Building Peace
John Paul Lederach's work in the field of conciliation and mediation is internationally recognized. As founding Director of the Conflict Transformation Program and Institute of Peacebuilding at Eastern Mennonite University, he has provided consultation and direct mediation in a range of situations. In this new book he explores the evolution of his understanding of peacebuilding by reflecting on his own experiences in the field. Peacebuilding, in his view, is both a learned skill and an art. Finding this art, he says, requires a worldview shift. Conflict professionals must envision their work as a creative act – an exercise of what Lederach terms the "moral imagination."
View From the Middle of the Road : A Mediator's Perspective on Life, Conflict, and Human Interaction
Every day in mediation offices around the world, parties come together to tell their unique story as it relates to a conflict in their lives. In a single, prescient day, they expect to end their pending litigation. Sometimes the resolution requires money. Other times it requires an apology, an explanation or an agreement to put the conflict behind the disputants and move forward in peace. Sometimes, it just requires an impartial set of ears, an open heart and a willing third party to lead the way with dignity, decency and humanity. Such is the life of a mediator.
Kurzban's Immigration Law Sourcebook 14th Ed.
Kurzban's Immigration Law Sourcebook incorporates U.S. Supreme Court, federal court, Board of Immigration Appeals decisions, and agency regulations and memoranda. Everything is meticulously indexed, making this quick-reference publication your guide to all federal and administrative cases, regulations and statutes, and DHS, DOS, and DOL rulings on significant issues related to immigration law. Author Ira J. Kurzban intelligently guides you through the labyrinth of immigration law with accurate and concise explanations. This synopsis of immigration law includes an extensive and thorough subject-matter index, an indispensable table of cases, and multiple tables of authorities to help you find answers quickly and easily.
Anatomy of a Merger: Strategies and Techniques for Negotiating Corporate Acquisitions
Anatomy of a Merger: Strategies and Techniques for Negotiating Corporate Acquisitions is a unique guide to handling a corporate acquisition negotiation successfully. Some of its advice is geared towards effectuating workable compromises that satisfy the interests of all parties; some is aimed at getting a leg up on your adversaries. One of the book's principal points is how these twin, seemingly antithetical goals can and should be attained.
The Opportunity Maker: Strategies for Inspiring Your Legal Career Through Creative Networking and Business Development (Career Guides)
This book is designed to help you harness your potential for business development and empower your legal career from law school through partnership. It provides techniques for defining your personal brand, leveraging your creativity and maximizing your success. Rainmakers, PR experts, elected officials, marketing masters, in-house counsel, business executives, career advisors, associates, law students, and others who have walked in your shoes offer perspective on issues ranging from networking, mentoring and blogging to hosting your own television show, starting a charity, and getting yourself published.
Reinventing Professional Services: Building Your Business in the Digital Marketplace
How engaging technology and relationships can help you stand out, attract business and achieve a more dynamic professional life. The technological landscape has reshaped the way white collar workers cultivate and promote their businesses. The Transformation of Professional Services is an engaging look at how licensed experts are adapting to today's dynamic economic environment.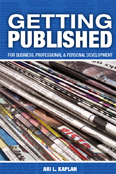 Getting Published for Business, Professional & Personal Development is a nationally-recognized resource on writing for business development. It contains a 25-page professionally-designed guidebook on the mechanics of publishing articles, as well as almost 75 pages of free material, including a set of current editorial calendars for various publications, submission guidelines, legal references to ethical materials in various states and a list of over 100 direct contacts (with e-mail addresses and phone numbers) at publications that may accept unsolicited work.
Coaching for Attorneys: Improving Productivity and Achieving Balance
Coaching for Attorneys is more than just a book. It is a mentor – addressing common problems and concerns that lawyers experience throughout their careers – and provides specific tools along with specific step-by-step instructions on how to use these tools to help you make life as a lawyer easier. Coaching for Attorneys teaches one how to feel good about what you are doing thus resulting in better work, better health, and better family life.
Making Your Case: The Art of Persuading Judges
In their professional lives courtroom lawyers must do these two things well: speak persuasively and write persuasively. In this noteworthy book, two of the most noted legal writers of our day Justice Antonin Scalia and Bryan A. Garner systematically present every important idea about judicial persuasion in a fresh, entertaining way. Making Your Case: The Art of Persuading Judges is a guide for novice and experienced litigators alike. It covers the essentials of sound legal reasoning, including how to develop the syllogism that underlies any argument. From there the authors explain the art of brief-writing, especially what to include and what to omit, so that you can induce the judge to focus closely on your arguments. Finally, they show what it takes to succeed in oral argument
Motivational Books
Thinking, Fast and Slow
In the international bestseller, Thinking, Fast and Slow, Daniel Kahneman, the renowned psychologist and winner of the Nobel Prize in Economics, takes us on a groundbreaking tour of the mind and explains the two systems that drive the way we think. System 1 is fast, intuitive, and emotional; System 2 is slower, more deliberative, and more logical. The impact of overconfidence on corporate strategies, the difficulties of predicting what will make us happy in the future, the profound effect of cognitive biases on everything from playing the stock market to planning our next vacation–each of these can be understood only by knowing how the two systems shape our judgments and decisions.
Holy Bible Text Edition NLT: New Living Translation
This text Bible offers readers the clear and accurate New Living Translation along with features such as a topical verse finder and full-color maps. The eBook edition contains robust navigational links that help the reader quickly locate a verse or move around in a particular book of the Bible.
The Motivation Manifesto
The Motivation Manifesto is a pulsing, articulate, ferocious call to claim our personal power. World-renowned high performance trainer Brendon Burchard reveals that the main motive of humankind is the pursuit of greater Personal Freedom. We desire the grand liberties of choice—time freedom, emotional freedom, social freedom, financial freedom, spiritual freedom. Only two enemies stand in our way: an external enemy, defined as the social oppression of who we are by the mediocre masses, and an internal enemy, a sort of self-oppression caused by our own doubt and fear.
The Artist's Way
The Artist's Way is the seminal book on the subject of creativity. An international bestseller, millions of readers have found it to be an invaluable guide to living the artist's life. Still as vital today—or perhaps even more so—than it was when it was first published a decade ago, it is a powerfully provocative and inspiring work.
Ok, I love Tim Ferris and his book "The 4-Hour Workweek, Expanded and Updated: Expanded and Updated, With Over 100 New Pages of Cutting-Edge Content.
Some of you might think, as the corporate attorney I lunched with recently said, "Four-hour workweek? Is that a thing?" but Tim's premise is my goal and aspiration.  To be "locationally independent," use virtual assistants, and take intermittent retirement sounds awesome to me!
 The 4-Hour Chef: The Simple Path to Cooking Like a Pro, Learning Anything, and Living the Good Life"
" which is also inspiring.  It has little to do with cooking, and a lot to do with learning and growing.  It's very thick so will impress anyone who sees you reading it.
Boomers: Aging Beats The Alternative: and a sense of humor helps
Lorie Eber, a re-careered lawyer, who is now a Gerontologist, addresses these boomer issues with her rapier-sharp wit and distinctive "tell it like it is" style, honed on the streets of New York. She talks candidly about the pain of her career reinvention, the challenges of keeping up with technology and the disquieting feeling that life is going by all too fast. Her introspective style also lends itself to creative insights, such as the off-the-wall notion that Starbucks Cafés provide the perfect model for boomer elder care.
The Tipping Point: How Little Things Can Make a Big Difference
The tipping point is that magic moment when an idea, trend, or social behavior crosses a threshold, tips, and spreads like wildfire. Malcolm Gladwell explores and brilliantly illuminates the tipping point phenomenon, is already changing the way people throughout the world think about selling products and disseminating ideas.
The Go-Giver: A Little Story About a Powerful Business Idea
The Go-Giver tells the story of an ambitious young man named Joe who yearns for success.
Eating with Fierce Kindness: A Mindful and Compassionate Guide to Losing Weight
Eating with Fierce Kindness is not a diet, but a way to revolutionize how you think about yourself and about food. Eating with fierce kindness and compassion toward yourself, instead of shame and self-blame, will empower you to change your relationship to food and see yourself in a whole new light.
You Just Don't Understand
Women and men live in different worlds…made of different words. Spending nearly four years on the New York Times bestseller list, including eight months at number one, You Just Don't Understand is a true cultural and intellectual phenomenon.
Start with Why: How Great Leaders Inspire Everyone to Take Action
In studying the leaders who've had the greatest influence in the world, Simon Sinek discovered that they all think, act, and communicate in the exact same way-and it's the complete opposite of what everyone else does. People like Martin Luther King Jr., and Steve Jobs might have little in common, but they all started with why.
How to Influence People: Make a Difference in Your World
Believe it or not, the most effective way to make an impact on the world is to make an impact on individual people. How do you do that? Through influence.
Positivity: Groundbreaking Research Reveales How to Embrace the Hidden Strength of Positive Emotions, Overcome Negativity, and Thrive
World renowned researcher Dr. Barbara Fredrickson gives you the lab-tested tools necessary to create a healthier, more vibrant, and flourishing life through a process she calls "the upward spiral."
HBR's 10 Must Reads on Managing Yourself (with bonus article "How Will You Measure Your Life?" by Clayton M. Christensen)
The path to your professional success starts with a critical look in the mirror. If you read nothing else on managing yourself, read these 10 articles
The 7 Habits of Highly Effective People: Powerful Lessons in Personal Change (25th Anniversary Edition)
This is one of the rare books that has influenced presidents, CEOs, educators, and individuals all over the world not only to improve their businesses and careers but to live with integrity, service, dignity, and success in all areas of life.
The Masked Rider: Cycling in West Africa
Dysentery, drunken soldiers, and corrupt officials provide the background for Neil Peart's physical and spiritual cycling journey through West Africa. The drummer for the band Rush travels through African villages and relates his story through photographs, journal entries, and tales of adventure, while addressing issues such as differences in culture, psychology, and labels.
How Good Attorneys Become Great Rainmakers
How Good Attorneys Become Great Rainmakers provides you with an easy, practical action plan that helps you develop the marketing skills and habits needed to attract higher value clients and referral sources. In this book, you'll find 21 Marketing Assets and 5 Marketing Habits that attorneys acquire on their way to becoming successful rainmakers.
Your Road Map for Success: You Can Get There from Here
Defining success is a difficult task. Most people equate it with wealth, power, and happiness. However, true success is not a thing you acquire or achieve. Rather, it is a journey you take your whole life long. In a refreshingly straightforward style, John Maxwell shares unique insights into what it means to be successful. And he reveals a definition that puts genuine success within your reach yet motivates you to keep striving for your dreams.
Long Walk to Freedom: The Autobiography of Nelson Mandela
Nelson Mandela is one of the great moral and political leaders of our time: an international hero whose lifelong dedication to the fight against racial oppression in South Africa won him the Nobel Peace Prize and the presidency of his country. Since his triumphant release in 1990 from more than a quarter-century of imprisonment, Mandela has been at the center of the most compelling and inspiring political drama in the world.
On Two Feet and Wings
He is in a foreign country, he is alone, and he is just a boy…Abbas Kazerooni is not yet ten, but he's suddenly forced to leave his parents, his friends—his entire world—and flee Tehran. The Iran-Iraq war is at its bloodiest, and the Ayatollahs who rule Iran have reduced the recruitment age for the army. If Abbas doesn't escape, it's almost certain that he will be drafted and die fighting for a regime that has stripped his family of all they have. This compelling true story of one young boy's courage provides a powerful child's-eye view of war, political tumult, and survival.
The Quest for Authenticity: The Thought of Reb Simhah Bunim
Distilling the teachings and thought of Rabbi Simha Bunim, one of the foremost figures in the Przysucha school of Hasidism, this study sheds light both on what students of the Pryzsucha tradition believed as well as on its influence on Polish Hasidism at large. Pryzsucha Hasidism believed in a service to God that demanded both passion and analytical study, and sought to understand the human being, rather than God himself. This exploration of Rabbi Bunim's thought illustrates how the spiritual leader was able to transform Przysucha Hasidism into a genuine movement and, in doing so, become the dominant personality in the Hasidic community in Poland during the early part of the 19th century.
10% Happier: How I Tamed the Voice in My Head, Reduced Stress Without Losing My Edge, and Found Self-Help That Actually Works–A True Story
Nightline anchor Dan Harris embarks on an unexpected, hilarious, and deeply skeptical odyssey through the strange worlds of spirituality and self-help, and discovers a way to get happier that is truly achievable. 10% Happier takes readers on a ride from the outer reaches of neuroscience to the inner sanctum of network news to the bizarre fringes of America's spiritual scene, and leaves them with a takeaway that could actually change their lives.
Not It: An Approach to Life
Life is a series of choices, and oftentimes determining what we don't want is just as important as clarifying what we do. In Not It: An Approach to Life, author Lori Rehnelt draws upon her professional experience as a business advisor and life coach to help you cut the clutter, avoid analysis paralysis, and focus on achieving the life of your dreams. Stop sleepwalking through life and find the courage to declare "not it!" to anything less than exceptional.
Enrique's Journey
recounts the unforgettable quest of a Honduran boy looking for his mother, eleven years after she is forced to leave her starving family to find work in the United States. Braving unimaginable peril, often clinging to the sides and tops of freight trains, Enrique travels through hostile worlds full of thugs, bandits, and corrupt cops. But he pushes forward, relying on his wit, courage, hope, and the kindness of strangers.
Crush It!: Why NOW Is the Time to Cash In on Your Passion
Do you have a hobby you wish you could do all day? An obsession that keeps you up at night? Now is the perfect time to take those passions and make a living doing what you love. In CRUSH IT! Why NOW Is The Time To Cash In On Your Passion, Gary Vaynerchuk shows you how to use the power of the Internet to turn your real interests into real businesses.
The Innovator's Dilemma: The Revolutionary Book That Will Change the Way You Do Business
The Innovator's Dilemma is the revolutionary business book that has forever changed corporate America. Based on a truly radical idea—that great companies can fail precisely because they do everything right—this Wall Street Journal, Business Week and New York Times Business bestseller is one of the most provocative and important business books ever written. Entrepreneurs, managers, and CEOs ignore its wisdom and its warnings at their great peril.
How Will You Measure Your Life?
From the world's leading thinker on innovation, Clayton M. Christensen, comes an unconventional book of inspiration and wisdom for achieving a fulfilling life. Christensen's The Innovator's Dilemma, notably the only business book that Apple's Steve Jobs said "deeply influenced" him, is widely recognized as one of the most significant business books ever published. Christensen's How Will You Measure Your Life is a book of lucid observations and penetrating insights designed to help any reader—student or teacher, mid-career professional or retiree, parent or child—forge their own paths to fulfillment.
Outliers: The Story of Success
Malcolm Gladwell takes us on an intellectual journey through the world of "outliers"–the best and the brightest, the most famous and the most successful. He asks the question: what makes high-achievers different? His answer is that we pay too much attention to what successful people are like, and too little attention to where they are from: that is, their culture, their family, their generation, and the idiosyncratic experiences of their upbringing.
Meditations
Stirring reflections on the human condition from a warrior and emperor provide a fascinating glimpse into the mind and personality of a highly principled Roman of the 2nd century. Recognizing that suffering is at the core of life, he counsels stoic detachment in the face of inevitable pain, loss and death.
The Slight Edge: Turning Simple Disciplines into Massive Success and Happiness
The Slight Edge is a way of thinking, a way of processing information that enables you to make the daily choices that will lead you to the success and happiness you desire. Learn why some people make dream after dream come true, while others just continue dreaming and spend their lives building dreams for someone else. It's not just another self-help motivation tool of methods you must learn in order to travel the path to success. It shows you how to create powerful results from the simple daily activities of your life, by using tools that are already within you.
Essentialism: The Disciplined Pursuit of Less
The Way of the Essentialist isn't about getting more done in less time. It's about getting only the right things done. It is not a time management strategy, or a productivity technique. It is a systematic discipline for discerning what is absolutely essential, then eliminating everything that is not, so we can make the highest possible contribution towards the things that really matter. By forcing us to apply a more selective criteria for what is Essential, the disciplined pursuit of less empowers us to reclaim control of our own choices about where to spend our precious time and energy – instead of giving others the implicit permission to choose for us.
Earning Freedom
During the 26 years that Michael G. Santos served as a federal prisoner, he worked consistently to prepare for a law-abiding, contributing life upon release. His disciplined and deliberate adjustment strategy led Michael to earn both a bachelor's degree and a master's degree while he served decades in prisons of every security level. Prior to the completion of his sentence Michael secured a position as a lecturer at San Francisco State University; he teaches a course titled The Architecture of Imprisonment, CJ 451 and readers may link to the syllabus from Michael's website. He uses his books as teaching resources for the course at San Francisco State University and to work toward helping others understand the complexities of American's prison system. Besides teaching, Michael works a speaker and consultant, helping others embrace strategies to conquer adversity.
Meritage Divorce: A Blend of Financial, Physical, Emotional and Spiritual Guidance…Through Wine Colored Glasses (Volume 1)
In Meritage Divorce, Cheryl Nielsen shares her advice for picking a divorce support system, caring for yourself, and using this time to re-align with your authentic self. In this humorous and sexually charged memoir, she serves a generous pour of her personal wisdom to support you through the financial, physical, emotional, and spiritual challenges you may face. She shares her struggles, spiritual lessons, and chance at love again. Written in wine metaphors, from her vineyard experience, Cheryl delivers a divorce guide for the wine lover.
Transformational Books
Awaken the Giant Within Wake up and take control of your life! From the bestselling author of Inner Strength, Unlimited Power, and MONEY Master the Game, Anthony Robbins, the nation's leader in the science of peak performance, shows you his most effective strategies and techniques for mastering your emotions, your body, your relationships, your finances, and your life. The acknowledged expert in the psychology of change, Anthony Robbins provides a step-by-step program teaching the fundamental lessons of self-mastery that will enable you to discover your true purpose, take control of your life, and harness the forces that shape your destiny.
The Road Less Traveled Perhaps no book in this generation has had a more profound impact on our intellectual and spiritual lives than The Road Less Traveled. With sales of more than seven million copies in the United States and Canada, and translations into more than twenty-three languages, it has made publishing history, with more than ten years on the New York Times bestseller list. Written in a voice that is timeless in its message of understanding, The Road Less Traveled continues to help us explore the very nature of loving relationships and leads us toward a new serenity and fullness of life. It helps us learn how to distinguish dependency from love; how to become a more sensitive parent; and ultimately how to become one's own true self. Recognizing that, as in the famous opening line of his book, "Life is difficult" and that the journey to spiritual growth is a long one, Dr. Peck never bullies his readers, but rather guides them gently through the hard and often painful process of change toward a higher level of self-understanding.
Pivot: The Art and Science of Reinventing Your Career and Life What would you do in your life if you knew you could not fail? That's the question answered in Pivot, a roadmap for embracing your true potential without abandoning your responsibilities or risking your future. As a transformational teacher and the CEO of Peak Potentials, which has trained more than one million people worldwide, Adam Markel can help you leap out of your comfort zone and into the destiny you've always dreamed of. Whether you are transitioning your career, or have been downsized, or believe that your true potential has yet to be fully tapped, Pivot is a guide to reinvention for anyone, at any age. With clear-eyed compassion and frank assessments, Adam shares the secrets that will guide you away from fear and toward a powerful new vision for your life.
As a Man Thinketh
James Allen's most famous book, today is considered a classic self-help book. Its underlying premise is that noble thoughts make a noble person, while lowly thoughts make a miserable person. Allen reveals how our thoughts determine reality. Whether or not we are conscious of it, our underlying beliefs shape our character, our health and appearance, our circumstances, and our destinies.
Think and Grow Rich
Think and grow rich is the most important financial book ever written. Napoleon Hill researched more than forty millionaires to find out what made them the men that they were. By following the advice laid out clearly in this book you'll be the one with an edge. It's time to stop wondering what it's like to be rich and start knowing. This book will change your life!
Outwitting the Devil: The Secret to Freedom and Success
Using his legendary ability to get to the root of human potential, Napoleon Hill digs deep to reveal how fear, procrastination, anger, and jealousy prevent us from realizing our personal goals. This long-suppressed parable was written by Hill in 1938 following the publication of his classic bestseller, Think and Grow Rich.
The Four Agreements: A Practical Guide to Personal Freedom (A Toltec Wisdom Book)
In The Four Agreements, don Miguel Ruiz reveals the source of self-limiting beliefs that rob us of joy and create needless suffering. The Four Agreements offer a powerful code of conduct that can rapidly transform our lives to a new experience of freedom, true happiness, and love.
Psycho-Cybernetics, A New Way to Get More Living Out of Life
Put more living in your life! Psycho‑Cybernetics is renowned doctor and professor Maxwell Maltz's simple, scientific, and revolutionary program for health and success. Happiness and success are habits. So are failure and misery. But negative habits can be changed—and Psycho‑Cybernetics shows you how!
Many Lives, Many Masters: The True Story of a Prominent Psychiatrist,
As a traditional psychotherapist, Dr. Brian Weiss was astonished and skeptical when one of his patients began recalling past-life traumas that seemed to hold the key to her recurring nightmares and anxiety attacks. His skepticism was eroded, however, when she began to channel messages from the "space between lives," which contained remarkable revelations about Dr. Weiss' family and his dead son. Using past-life therapy, he was able to cure the patient and embark on a new, more meaningful phase of his own career.
Proof of Heaven: A Neurosurgeon's Journey into the Afterlife
Near-death experiences, or NDEs, are controversial. Thousands of people have had them, but many in the scientific community have argued that they are impossible. Dr. Eben Alexander was one of those people. A highly trained neurosurgeon who had operated on thousands of brains in the course of his career, Alexander knew that what people of faith call the "soul" is really a product of brain chemistry.
The Monk Who Sold His Ferrari: A Remarkable Story About Living Your Dreams
The Monk Who Sold His Ferrari celebrates the story of Julian Mantle, a successful but misguided lawyer whose physical and emotional collapse propels him to confront his life. The result is an engaging odyssey on how to release your potential and live with passion, purpose and peace. A brilliant blend of timeless wisdom and cutting-edge success principles, a guide for the times, as countless people dedicate themselves to living a life where family, work and personal fulfillment are achieved in harmonious balance.
Enduring Courage: Ace Pilot Eddie Rickenbacker and the Dawn of the Age of Speed
At the turn of the twentieth century two new technologies—the car and airplane—took the nation's imagination by storm as they burst into American life. The brave souls that leaped into these dangerous contraptions and pushed them to unexplored extremes became new American heroes: the race car driver and the flying ace. No one did more to create and intensify these new roles than Eddie Rickenbacker, who defied death over and over with such courage and pluck that a generation of Americans came to know his face better than the president's.
Wisdom Hunter: A Novel
Randall Arthur's novel presents the hypocrisy of Christian legalism and a man's search for the only surviving member of his family. The story's hero, embarks on a journey that lasts eighteen years and takes him through four countries in a quest to find the granddaughter who is being hidden from him. In a process that mirrors our own spiritual journey, he discovers a rich relationship with God and the peace that finally comes with true faith.
The HeartMath Solution: The Institute of HeartMath's Revolutionary Program for Engaging the Power of the Heart's Intelligence
Is the heart the missing link in the mind-body connection? By combining age-old philosophy with modern science, Childre and Martin, respectively the founder and an executive consultant of the California nonprofit research organization, Institute of HeartMath make a compelling case for the idea that good health is really a triumph of heart, not mind, over matter.
This Time I Dance!: Creating the Work You Love
 What is most difficult in making a career change is deciding to make the change, especially when you are good at what you do, and wonder whether you should just stick it out in an unhappy-albeit well-paid-environment instead of taking a risk and starting over doing something you love. In This Time I Dance!, Tama Kieves shares the inspiring wisdom that led her from being a successful Harvard lawyer to an even more successful writer and life coach. The best part? She's happy with her career!
The Alchemist
The Alchemist by Paulo Coelho continues to change the lives of its readers forever. Paulo Coelho's masterpiece tells the magical story of Santiago, an Andalusian shepherd boy who yearns to travel in search of a worldly treasure as extravagant as any ever found. The story of the treasures Santiago finds along the way teaches us, as only a few stories can, about the essential wisdom of listening to our hearts, learning to read the omens strewn along life's path, and, above all, following our dreams.
The Big Leap: Conquer Your Hidden Fear and Take Life to the Next Level
In The Big Leap, Gay Hendricks, the New York Times bestselling author of Five Wishes, demonstrates how to eliminate the barriers to success by overcoming false fears and beliefs. Fans of Wayne Dyer, Eckhart Tolle, Marianne Williamson, and The Secret will find useful, effective tips for breaking down the walls to a better life in The Big Leap.
Daring Greatly: How the Courage to Be Vulnerable Transforms the Way We Live, Love, Parent, and Lead
Researcher and thought leader Dr. Brené Brown offers a powerful new vision that encourages us to dare greatly: to embrace vulnerability and imperfection, to live wholeheartedly, and to courageously engage in our lives.
The Law of Success: The Master Wealth-Builder's Complete and Original Lesson Plan forAchieving Your Dreams
The Law of Success is the golden key to Hill's thought–his complete and unabridged mind-power method for achieving your goals. After interviewing dozens of industrialists, diplomats, thought leaders, and successful people from all walks of life, the young Hill distilled what he learned into these fifteen core lessons, organized with an introductory chapter, 'The Master Mind,' that serves as a primer to Hill's overall philosophy.
NLP: The New Technology of Achievement
NLP has already helped millions of people overcome fears, increase confidence, enrich relationships, and achieve greater sucess. Now the NLP Comprehensive Training Team has written a book that reveals how to use this breakthrough technology to achieve whatever you want. Short for neuro-linguistic programming, NLP is a revolutionary approach to human communication and development. In NLP: The New Technology of Achievement, you'll be guided step-by-step through specific programs for learning the characeristics of top achievers and creating a blueprint for unlimited sucess.
The Power of Vulnerability: Teachings on Authenticity, Connection and Courage
Is vulnerability the same as weakness? "In our culture," teaches Dr. Brené Brown, "we associate vulnerability with emotions we want to avoid such as fear, shame, and uncertainty. Yet we too often lose sight of the fact that vulnerability is also the birthplace of joy, belonging, creativity, authenticity, and love." On The Power of Vulnerability, Dr. Brown offers an invitation and a promise-that when we dare to drop the armor that protects us from feeling vulnerable, we open ourselves to the experiences that bring purpose and meaning to our lives.
Inspired & Unstoppable: Wildly Succeeding in Your Life's Work!
What if everything you thought you needed to do to succeed was actually standing in the way of your success? Tama Kieves, Harvard-lawyer-turned-career-coach, has spent the last decade crossing the United States and Canada, speaking to tens of thousands of people and sharing her inspiring story of moving from a career that was killing her to a life that has uplifted her, chronicled in her first book, This Time I Dance!: Creating the Work You Love. She has mentored thousands of people who, with her help, have followed their passion, and now live their dream lives.
A Year Without Fear: 365 Days of Magnificence
In this day-by-day book, motivational speaker, career coach, and Harvard-trained lawyer Tama Kieves presents the reader with 365 days worth of inspiration for overcoming fear, conquering obstacles, and achieving their life's greatest work. With morsels of wisdom presented in an easy-to-action format, this book will help readers to realize and achieve their true destiny!
Energy Leadership: Transforming Your Workplace and Your Life from the Core
In Energy Leadership, renowned coach Bruce D. Schneider teaches how to understand the most important personal resource of all — energy, and shows how to harness it to achieve success in the workplace, the home, and in the world at large. This engaging and fast-paced story clearly explains how managers and leaders from all walks of life can use the principles of Energy Leadership to inspire themselves and others to achieve extraordinary results in whatever they do.
Journeys On The Edge: Living A Life That Matters
Squeezed by time and snared in self-imposed entanglements, many fail to live the lives they once imagined, but there is another way. Journeys on the Edge shows you easy ways to drop excuses and break out of the "survival mode" rut. Adventurer, attorney, and photographer Walt Hampton shares a series of inspiring stories that illustrate how to live a life on purpose and with passion while experiencing fun, freedom, and fulfillment. This dream-inspiring, spirit-awakening book tells us it is possible to have it all, so take a journey to the edge.
Entertainment
One L: The Turbulent True Story of a First Year at Harvard Law School
 It was a year of terrors and triumphs, of depressions and elations, of compulsive work, pitiless competition, and, finally, mass hysteria. It was Scott Turow's first year at the oldest, biggest, most esteemed center of legal education in the United States. Turow's experiences at Harvard Law School, where freshmen are dubbed One Ls, parallel those of first-year law students everywhere. His gripping account of this critical, formative year in the life of a lawyer is as suspenseful, said The New York Times, as "the most absorbing of thrillers."
The Gold Coast
Nelson Demille Welcome to the fabled Gold Coast, that stretch on the North Shore of Long Island that once held the greatest concentration of wealth and power in America. Here, two men are destined for an explosive collision.
The Shadow of the Wind (The Cemetery of Forgotten Book 1)
 Young Daniel is taken by his bookseller father to the Cemetery of Forgotten Books, a massive sanctuary where books are guarded from oblivion. Told to choose one book to protect, he selects The Shadow of the Wind, by Julian Carax. He soon learns it is both very valuable and very much in danger because someone is determinedly burning every copy of every book written by the obscure Carax.
Atlas Shrugged
With this acclaimed work and its immortal query, "Who is John Galt?", Ayn Rand found the perfect artistic form to express her vision of existence. Atlas Shrugged made Rand not only one of the most popular novelists of the century, but one of its most influential thinkers. Atlas Shrugged is the astounding story of a man who said that he would stop the motor of the world–and did. Tremendous in scope, breathtaking in its suspense, Atlas Shrugged stretches the boundaries further than any book you have ever read. It is a mystery, not about the murder of a man's body, but about the murder–and rebirth–of man's spirit.
The Cherry Orchard
A classic of world drama concerns the passing of the old semi-feudal order in turn-of-the-century Russia, symbolized in the sale of the cherry orchard owned by Madame Ranevskaya. The work also showcases Chekhov's rich sensitivities as an observer of human nature.
The Count of Monte Cristo (Penguin Classics)
Thrown in prison for a crime he has not committed, Edmond Dantes is confined to the grim fortress of If. There he learns of a great hoard of treasure hidden on the Isle of Monte Cristo and he becomes determined not only to escape, but also to unearth the treasure and use it to plot the destruction of the three men responsible for his incarceration. Dumas' epic tale of suffering and retribution, inspired by a real-life case of wrongful imprisonment, was a huge popular success when it was first serialized in the 1840s.
Wuthering Heights
In this classic novel, written in the epistolary style popular in the 19th century, the tragic love story of Heathcliff and Catherine Earnshaw plays out against the backdrop of a gloomy manor called Wuthering Heights.
Jane Eyre
Jane Eyre follows the emotions and experiences of its title character, including her growth to adulthood, and her love for Mr. Rochester, the byronic master of fictitious Thornfield Hall.
The Picture of Dorian Gray
The Picture of Dorian Gray is an 1891 philosophical novel by Irish writer and playwright Oscar Wilde. The Picture of Dorian Gray tells the story of a narcissistic man, who falls in love with a a beautiful painting of himself. He says that he wishes he could stay young and beautiful, like in his portrait. His wish comes true; he never grows old, but the man in his portrait (himself) does instead.
Dead Sharks
Criminal Defense attorneys are being killed. The only common denominator is that each attorney has recently won an acquittal for a suspect in a violent murder. Is it one of the family members of the victims? Is it just vigilante justice? Homicide detective Ricardo Ramirez is more than just old school … he is just old … and he has a lot of questions, starting with why he was picked for this assignment. Maybe someone doesn't want these crimes solved. Maybe no one really cares about a few Dead Sharks.
Foundation
For twelve thousand years the Galactic Empire has ruled supreme. Now it is dying. But only Hari Sheldon, creator of the revolutionary science of psychohistory, can see into the future–to a dark age of ignorance, barbarism, and warfare that will last thirty thousand years. To preserve knowledge and save mankind, Seldon gathers the best minds in the Empire–both scientists and scholars–and brings them to a bleak planet at the edge of the Galaxy to serve as a beacon of hope for a fututre generations. He calls his sanctuary the Foundation. But soon the fledgling Foundation finds itself at the mercy of corrupt warlords rising in the wake of the receding Empire. Mankind's last best hope is faced with an agonizing choice: submit to the barbarians and be overrun–or fight them and be destroyed.
The Call of the Wild (Global Classics)
The Call of the Wild is a novel by Jack London published in 1903. The story is set in the Yukon during the 1890s Klondike Gold Rush—a period when strong sled dogs were in high demand. The novel's central character is a dog named Buck, a domesticated dog living at a ranch in the Santa Clara valley of California as the story opens. Stolen from his home and sold into the brutal existence of an Alaskan sled dog, he reverts to atavistic traits. Buck is forced to adjust to, and survive, cruel treatments and fight to dominate other dogs in a harsh climate. Eventually he sheds the veneer of civilization, relying on primordial instincts and lessons he learns, to emerge as a leader in the wild.
1984 (Signet Classics)
Written in 1948, 1984 was George Orwell's chilling prophecy about the future. And while 1984 has come and gone, Orwell's narrative is timelier than ever. 1984 presents a startling and haunting vision of the world, so powerful that it is completely convincing from start to finish. No one can deny the power of this novel, its hold on the imaginations of multiple generations of readers, or the resiliency of its admonitions—a legacy that seems only to grow with the passage of time.
To Kill a Mockingbird
The unforgettable novel of a childhood in a sleepy Southern town and the crisis of conscience that rocked it, To Kill A Mockingbird became both an instant bestseller and a critical success when it was first published in 1960. It went on to win the Pulitzer Prize in 1961 and was later made into an Academy Award-winning film, also a classic.
A Christmas Carol
A Christmas Carol is a novella by English author Charles Dickens. It was first published by Chapman & Hall on 19 December 1843. Carol tells the story of a bitter old miser named Ebenezer Scrooge and his transformation resulting from a supernatural visit by the ghost of his former business partner Jacob Marley and the Ghosts of Christmases Past, Present and Yet to Come.
The Complete Sherlock Holmes: Volumes 1-4 (The Heirloom Collection)
Sir Arthur Conan Doyle's Sherlock Holmes tales are rightly ranked among the seminal works of mystery and detective fiction. The splendid illustrations in this collection more than befit that classic status. Included are all four full-length Holmes novels and more than forty short masterpieces—from The Adventures of Sherlock Holmes to The Case Book of Sherlock Holmes and more. At the center of each stands the iconic figure of Holmes—brilliant, eccentric, and capable of amazing feats of deductive reasoning. By his side is Dr. John Watson, his steadfast assistant and our trusty narrator. This set is a must-have for every discriminating bibliophile and Sherlock Holmes fan.
The Seven Spiritual Laws of Success: A Practical Guide to the Fulfillment of Your Dreams
The creation of wealth has always been regarded as a process that requires hard work and luck–often at the expense of others. In this remarkable book, the author of Quantum Healing and other bestsellers reveals how to align with the subtle yet powerful, unseen forces that affect the flow of money in our lives.
Educational
Killing Lincoln: The Shocking Assassination that Changed America Forever
A riveting historical narrative of the heart-stopping events surrounding the assassination of Abraham Lincoln, and the first work of history from mega-bestselling author Bill O'Reilly.
How To Kill A Lawsuit: Stop A Lawsuit Dead In Its Tracks
The first-ever complete guidebook that teaches you how to beat lawsuits, judgments, creditors and much more. Everything you need to know for MAXIMUM protection!
Asset Protection for Physicians and High-Risk Business Owners
New 2011 Edition – New strategies for asset protection, estate planning and privacy. The author, attorney Robert J. Mintz, describes the latest strategies for insulating and shielding assets from potential lawsuit liability.
A Short History of Nearly Everything
Bestselling author Bill Bryson sets out to put his irrepressible stamp on all things under the sun. As he states at the outset, this is a book about life, the universe and everything, from the Big Bang to the ascendancy of Homo sapiens.
Credit Limits
This book details with virtually everything one needs to know about avoiding the pitfalls of credit cards.  The obvious intimacy displayed by Mr. Weber with the material covered made "Credit Limits" easy to read, easy to understand, and makes the reader think twice before filling out that credit application.
A Whole New Mind: Why Right-Brainers Will Rule the Future
The future belongs to a different kind of person with a different kind of mind: artists, inventors, storytellers-creative and holistic "right-brain" thinkers whose abilities mark the fault line between who gets ahead and who doesn't. Drawing on research from around the world, Pink outlines the six fundamentally human abilities that are absolute essentials for professional success and personal fulfillment–and reveals how to master them.
The Boomer's Guide to Aging Parents: The Complete Guide
Carolyn L. Rosenblatt is a registered nurse and an attorney with over 40 years of combined experience. She has compiled her 9 volume series into this Complete Guide. It touches on dangerous older drivers, choosing home care workers and nursing homes, understanding assisted living, the specifics of handling money for aging parents, ways to manage sibling conflicts about elders, advice from a lawyer about how to choose a lawyer when your parent needs one, and knowing how a care manager can help you.
5 Steps To Freedom From Debt: A System That Works
A system that works from a consumer protection and debt elimination bankruptcy lawyer who has helped hundreds of clients achieve freedom from debt. Eliminate tax debt and student loans too! Christine A. Wilton, Esq. (@AttyChristine) explains both bankruptcy and non-bankruptcy alternative approaches to debt elimination based upon the goals of her clients. She understands that bankruptcy is not right for everyone and making a well informed decision is key to success.
Cucina & Famiglia: Two Italian Families Share Their Stories, Recipes, And Traditions
oan Tropiano Tucci — mother of Stanley Tucci, producer and star of the movie Big Night — and Gianni Scappin-who taught Stanley how to cook for his performance as Secondo in Big Night — join together to bring you over 200 of their favorite Italian family recipes. Brimming with family anecdotes and filled with easy and accessible Italian dishes, Cucina & Famiglia is a delightful peek into what it means to grow up in an Italian family.
Bon Appetit Magazine
bon appétit focuses on what's current and stylish, while still giving readers valuable cooking tools and tips. The only food lifestyle publication on the market, bon appétit offers "life through the lens of food" — cooking in, dining out, culture, travel, entertainment, shopping and design.
Financially Fearless: The LearnVest Program for Taking Control of Your Money
It's time to throw away all your old notions of what financial advice should look like. Because if you're looking for a book to put you on an austerity savings plan that has you giving up vacations and lattes, you're out of luck. But if you're looking to get your finances in rock-hard shape – in less time than it takes to finish a workout – then Alexa von Tobel, Founder and CEO of LearnVest, has your back.
Wear Clean Underwear!: A Fast, Fun, Friendly and Essential Guide to Legal Planning for Busy Parents
In an easy-to-read story format, Wear Clean Underwear takes you on a journey to discover in fast, simple-to-understand terms exactly what will happen based on your current plan, and what happens if you don't have a plan. Showing you how to avoid unnecessary taxes and a broken-down court system, the book guides you to transfer your values, love, and support to your children and loved ones with ease.
The New Yorker Magazine
If you're interested in literary book reviews, reading commentary on popular culture, and enjoying political cartoons, the New Yorker magazine is perfect for your subscription collection. Started in 1925, the publication has yet to disappoint readers with substandard short stories or essay content.
The Millionaire Zone: Seven Winning Steps to a Seven-Figure Fortune
When it comes to making a change in our lives, there is nothing more frightening than taking a financial risk–starting your own business, investing money, or making a career change. Not anymore. Now you can achieve your financial dreams without having to go it alone. By showing you how to stay in your comfort zone, nationally recognized financial expert Jennifer Openshaw eliminates the roadblocks between you and your financial rewards. This book will help you make the change you've always thought about but were too afraid to try.
Rich Habits – The Daily Success Habits of Wealthy Individuals
The "Rich Habits" are ten principles created through years of researching the daily success habits of his wealthiest clients. These ten simple principles miraculously transform every individual who comes into contact with them. By applying these principles, you are literally walking in the footsteps of the wealthy.
In Rich Habits, Tom Corley provides a step by step financial success program that is concise, easy to understand and even easier to apply, regardless of your age, education or income level.
Influence: The Psychology of Persuasion, Revised Edition
Influence, the classic book on persuasion, explains the psychology of why people say "yes"—and how to apply these understandings. Dr. Robert Cialdini is the seminal expert in the rapidly expanding field of influence and persuasion. His thirty-five years of rigorous, evidence-based research along with a three-year program of study on what moves people to change behavior has resulted in this highly acclaimed book. You'll learn the six universal principles, how to use them to become a skilled persuader—and how to defend yourself against them. Perfect for people in all walks of life, the principles of Influence will move you toward profound personal change and act as a driving force for your success.
Influence: Science and Practice (5th Edition)
Written in a narrative style combined with scholarly research, Cialdini combines evidence from experimental work with the techniques and strategies he gathered while working as a salesperson, fundraiser, advertiser, and in other positions inside organizations that commonly use compliance tactics to get us to say "yes." Widely used in classes, as well as sold to people operating successfully in the business world, the eagerly awaited revision of Influence reminds the reader of the power of persuasion.
The Republic
The Republic is a Socratic dialogue, written by Plato around 380 BC, concerning the definition of justice, the order and character of the just city-state and the just man—for this reason, ancient readers used the name On Justice as an alternative title. It is Plato's best-known work and has proven to be one of the most intellectually and historically influential works of philosophy and political theory. In it, Socrates along with various Athenians and foreigners discuss the meaning of justice and examine whether or not the just man is happier than the unjust man by considering a series of different cities coming into existence "in speech", culminating in a city called Kallipolis, which is ruled by philosopher-kings; and by examining the nature of existing regimes. The participants also discuss the theory of forms, the immortality of the soul, and the roles of the philosopher and of poetry in society.
Four Texts on Socrates: Plato's "Euthyphro," "Apology of Socrates," "Crito," and Aristophanes' "Clouds"
Crito is a dialogue by the ancient Greek philosopher Plato. It is a conversation between Socrates and his wealthy friend Crito regarding justice, injustice, and the appropriate response to injustice. Socrates thinks that injustice may not be answered with injustice, and refuses Crito's offer to finance his escape from prison. This dialogue contains an ancient statement of the social contract theory of government. The dialogue takes place in Socrates' prison cell, where he awaits execution. He is visited before dawn by his old friend Crito, who has made arrangements to smuggle Socrates out of prison to the safety of exile. Socrates seems quite willing to await his imminent execution, and so Crito presents as many arguments as he can to persuade Socrates to escape. Socrates introduces the voice of the Laws of Athens, which speaks to him and proceeds to explain why it would be unjust for him to leave his cell. Since the Laws exist as one entity, to break one would be to break them all, and in doing so, Socrates would cause them great harm. The citizen is bound to the Laws like a child is bound to a parent, and so to go against the Laws would be like striking a parent. Rather than simply break the Laws and escape, Socrates should try to persuade the Laws to let him go. These Laws present the citizen's duty to them in the form of a kind of social contract. By choosing to live in Athens, a citizen is implicitly endorsing the Laws, and is willing to abide by them. Socrates, more than most, should be in accord with this contract, as he has lived a happy seventy years fully content with the Athenian way of life. If Socrates were to break from prison now, having so consistently validated the social contract, he would be making himself an outlaw who would not be welcome in any other civilized state for the rest of his life. And when he dies, he will be harshly judged in the underworld for behaving unjustly toward his city's laws. Thus, Socrates convinces Crito that it would be better not to attempt an escape.
The Big Switch: Rewiring the World, from Edison to Google
Hailed as "the most influential book so far on the cloud computing movement" (Christian Science Monitor), The Big Switch makes a simple and profound statement: Computing is turning into a utility, and the effects of this transition will ultimately change society as completely as the advent of cheap electricity did. In a new chapter for this edition that brings the story up-to-date, Nicholas Carr revisits the dramatic new world being conjured from the circuits of the "World Wide Computer."
Eat the Elephant: Overcoming Overwhelm
If you've ever felt buried in an endless to-do list, or so busy that you can't even find your to-do list, you know overwhelm. Overwhelm sucks all the joy out of your days, keeps you stressed out, worried, and feeling behind. It's become a way of life. Attorney and consultant Karloyn Vreeland Blume shares her time-tested tools for eliminating overwhelm and perfectionism, served up with a dash of laughter. When you finish this book, you'll have renewed confidence in your ability to not only cope the demands of your busy life, but to master them. A must- read for anyone who is in overwhelm and desperately seeks a usable solution. ~Kathleen Gage, author of Power Up for Profits
The Immortal Life of Henrietta Lacks
Her name was Henrietta Lacks, but scientists know her as HeLa. She was a poor black tobacco farmer whose cells—taken without her knowledge in 1951—became one of the most important tools in medicine, vital for developing the polio vaccine, cloning, gene mapping, and more. Henrietta's cells have been bought and sold by the billions, yet she remains virtually unknown, and her family can't afford health insurance. This phenomenal New York Times bestseller tells a riveting story of the collision between ethics, race, and medicine; of scientific discovery and faith healing; and of a daughter consumed with questions about the mother she never knew.
The Podcast, Blog & New Media Producer's Legal Survival Guide: An essential resource for content creators
The Podcast, Blog & New Media Producers' Legal Survival Guide is the first comprehensive explanation of the legal principles, issues and claims that can arise for producers of internet-based media. Written by veteran entertainment and media lawyer, Gordon Firemark, this 114-page guide is designed to help those who write blogs, host & produce podcasts, or distribute video or other media via the Internet avoid the most common mistakes that lead to threats, recriminations and lawsuits.
How to Stay Healthy in a World Designed to Make Us Fat and Lazy
Trying to stay in shape and eat a healthy diet in today's stressed-out, super-sized, sedentary environment can sometimes feel like a daunting task. As many as two-thirds of us have given up the ghost and decided to just make friends with our spare tires and jiggly butts. We convince ourselves that the culprit is getting old, our slowing metabolism, or hormones run-amok. The truth is, we sit too much and eat way too much food. This book will give you the skills you need to be a lifestyle rebel and stay healthy in our Humpty Dumpty culture
Spy the Lie: Former CIA Officers Teach You How to Detect Deception
Three former CIA officers–among the world's foremost authorities on recognizing deceptive behavior–share their proven techniques for uncovering a lie. Imagine how different your life would be if you could tell whether someone was lying or telling you the truth. Be it hiring a new employee, investing in a financial interest, speaking with your child about drugs, confronting your significant other about suspected infidelity, or even dating someone new, having the ability to unmask a lie can have far-reaching and even life-altering consequences.
Get the Truth: Former CIA Officers Teach You How to Persuade Anyone to Tell All
Getting someone to tell the truth is an essential skill that very few people possess. In the boardroom, classroom, or our own homes, every day we interact with others and try to get the truth from them. This book will show you how to do it, and do it well! People are often untruthful out of fear of negative consequences associated with divulging information, or they are untruthful to attempt to gain an advantage. But, if they are made to forget the long-term outcomes of lying, he or she can be influenced to disclose the information that's being withheld. The aim is to encourage the person to remain in short-term thinking mode, shifting focus away from the long-term ramifications of telling the truth.
What Every BODY is Saying: An Ex-FBI Agent's Guide to Speed-Reading People
Read this book and send your nonverbal intelligence soaring. Joe Navarro, a former FBI counterintelligence officer and a recognized expert on nonverbal behavior, explains how to "speed-read" people: decode sentiments and behaviors, avoid hidden pitfalls, and look for deceptive behaviors. You'll also learn how your body language can influence what your boss, family, friends, and strangers think of you.
Speak with Passion, Speak with Power!
Are you ready to break through your fear of public speaking, establish yourself as a promote-able professional and move your presentations from okay to "Wow!" "Speak with Passion, Speak with Power!" gets you on your feet and in action, taking the steps necessary for bringing all the passion and power that's in your soul to your speaking – and for having the results you want! Regardless of your industry or whether you're giving a presentation, teaching a class or interviewing for a job – through focused exercises, inspiring case studies and humorous cartoons, "Speak with Passion, Speak with Power!" guides you along a proven path, out of the ordinary and into the extraordinary!
Divorce CREDIT RESCUE
Having issues dealing with credit through a divorce? Look no further as THIS book give YOU everything you need to know to properly handle credit in a divorce situation.
The Life-Changing Magic of Tidying Up: The Japanese Art of Decluttering and Organizing
Despite constant efforts to declutter your home, do papers still accumulate like snowdrifts and clothes pile up like a tangled mess of noodles? Japanese cleaning consultant Marie Kondo takes tidying to a whole new level, promising that if you properly simplify and organize your home once, you'll never have to do it again. Most methods advocate a room-by-room or little-by-little approach, which doom you to pick away at your piles of stuff forever. The KonMari Method, with its revolutionary category-by-category system, leads to lasting results.
Strangers in Paradise: How Families Adapt to Wealth Across Generations
An astonishing fact is that the vast majority of the wealthy come from middle-class or working-class backgrounds. Born and raised in modest economic circumstances, they find themselves as adults in the wonderful but unfamiliar world of wealth, like immigrants to a new land. Their adjustment is often harder than they anticipate. Yet awaiting wealth's newcomers is an even more daunting task: how to raise children and grandchildren successfully in the family's new world of affluence. Written by a prominent wealth psychologist, Strangers in Paradise takes an innovative approach to the challenges facing wealth's "immigrants and natives." Combining clear reasoning with real-world stories, Strangers in Paradise outlines for the first time how the key process for families of wealth – like all immigrant families – is adaptation.