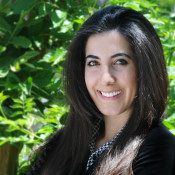 Nicole Abboud of The Law Office of Nicole Abboud is an attorney practicing Fashion Law in Los Angeles. She works with fashion designers and companies to set up their business entities and protect their brands. Nicole graduated from Southwestern Law School in 2011 and opened her own practice in 2014. Nicole remains heavily involved in her law school's young alumni organization, the Arab American Lawyers Association of Southern California, and the American Bar Association.
When she's not lawyering, you can find Nicole chatting with awesome millennial attorneys on her podcast, The Gen Why Lawyer Podcast. Nicole's guests range from attorneys who are finding great success in their legal careers to attorneys who have decided to pursue alternative non-legal careers to find happiness. Through her podcast, Nicole hopes to inspire professionals to shake off their fear of being unconventional and embrace their unique voice.
Listen to the podcast
Fail fast to succeed faster
Hear Nicole tell us about quoting a friend for some trademark work for a low price.  She did the work, sent a draft and never heard from the friend again.  Lesson learned:  secure the money up front.
Tell us something good
Nicole really feels successful when older, or more senior, attorneys believe in her, take her seriously and support her.
What's on your desk?
Fashion law covers a variety of practice areas including immigration, import/export, intellectual property, contracts and retail leasing.  Nicole's primary focus is is on intellectual property and business law.
Nicole also hosts the weekly "The Gen Why Lawyer Podcast."
Favorite Resource
Canva gives you everything you need to easily turn ideas into stunning designs. Create designs for Web or print: blog graphics, presentations, Facebook covers, flyers, posters, invitations and so much more.
Periscope – What if you could  watch the sunrise from a hot air balloon in Cappadocia? While there are many ways to discover events and places there is no better way to experience a place right now than through live video. A picture may be worth a thousand words, but live video can take you someplace and show you around.
Favorite Books:
Start with Why: How Great Leaders Inspire Everyone to Take Action In studying the leaders who've had the greatest influence in the world, Simon Sinek discovered that they all think, act, and communicate in the exact same way-and it's the complete opposite of what everyone else does. People like Martin Luther King Jr., and Steve Jobs might have little in common, but they all started with why.
Thanks for Listening
This information is coming to you to inspire you and drive you forward. Be bigger than you know yourself to be! If you haven't already done so, please take a minute to leave a quick 5-star review rating and honest review on iTunes by clicking here.
Miranda McCroskey – host of Lawpreneur Radio