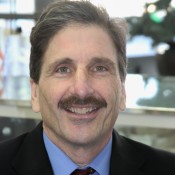 Richard W. Greenbaum, founder of Richard W. Greenbaum, PC, received his Degree of Juris Doctor from Pepperdine University in Malibu, California. After becoming a Partner in the litigation department of a large multi-office national firm in Los Angeles, handling business and tort related claims; Richard found his passion in working closely with small and medium-sized businesses to provide preventative legal services. His desire is to assist his clients in achieving their ultimate goals and help the local business community.
Listen to the podcast
Fail fast to succeed faster
Richard tells us that he was comfortable in large firm where he was a partner but knew that there was more for him outside.  He knew that he would make less money for a while and not have the support, just down the hall and that he would be vastly more satisfied with his practice if he was on his own.
Tell us something good
Listen as Richard explains how he has learned a lot about himself on Yelp.com.  He makes changes as he learns what improves his clients experience and strives to improve his clients experience of his business.
Richard discusses saving his clients from agreements that weren't in their favor, both before and after they agreement has been signed.
What's on your desk?
Richard tells us that he is currently setting up a couple of new businesses, dissolving one business and writing a share holder separation agreement.
Favorite Resource
Richard uses a variety of resources including real estate newsletters and general counsel publications to keep current on changes in the law to ensure that he is best serving his clients.
Favorite Books:
One L: The Turbulent True Story of a First Year at Harvard Law SchoolIt was a year of terrors and triumphs, of depressions and elations, of compulsive work, pitiless competition, and, finally, mass hysteria. It was Scott Turow's first year at the oldest, biggest, most esteemed center of legal education in the United States. Turow's experiences at Harvard Law School, where freshmen are dubbed One Ls, parallel those of first-year law students everywhere. His gripping account of this critical, formative year in the life of a lawyer is as suspenseful, said The New York Times, as "the most absorbing of thrillers."
Thanks for Listening
This information is coming to you to inspire you and drive you forward. Be bigger than you know yourself to be! If you haven't already done so, please take a minute to leave a quick 5-star review rating and honest review on iTunes by clicking here.
Miranda McCroskey – host of Lawpreneur Radio