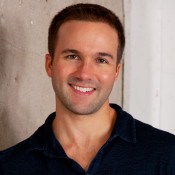 John Lee Dumas is the Founder and Host of EntrepreneurOnFire, an award winning Podcast revealing the journey of today's most inspiring Entrepreneurs 7-days a week. EntrepreneurOnFire generates over $250,000 a month in revenue & offers a free 15-day course on Podcasting at FreePodcastCourse.com. With over 1 million unique listens a month, EntrepreneurOnFire has inspired Fire Nation to take control of their life and take the Entrepreneurial leap. Are YOU prepared to ignite?
Listen to the podcast
Show Highligts
John discusses the ripple effect of his podcast EntrepreneurOnFire.  He tells us how he sees the impact on the world through podcasts that have come out of his work on EntrepreneurOnFire and Podcasters Paradise
Listen as John tells us about his inspiration for starting EntrepreneurOnFire starting with this quote from Ghandi, "Be that change you want to see in the world."  John saw a need for a seven day a week business focused podcast and no one was filling the need.
Initially John didn't see the opportunity for Podcaster's Paradise.  As soon as he recognized the need, he started Podcaster's Paradise and hasn't looked back since.
John describes how he solicits feedback from his listeners and uses their pain points and struggles to guide EntrepreneurOnFire and Podcaster's Paradise.
Hear John tell the story of releasing his income reports and how he learned that producing value for people gets monetary results.
John reminds us that FOCUS (Follow One Course Until Success) is key.
Best Advice:
If you want to be, do. You have to be doing something to have something to talk about.
Favorite Resource
ScheduleOnce – John says that having a scheduling tool is vital for making sure things happen
Favorite Books:
The ONE Thing: The Surprisingly Simple Truth Behind Extraordinary Results People are using this simple, powerful concept to avoid overwhelming distractions in their personal and work lives so they can focus on what matters most. YOU WANT LESS. You want fewer distractions and less on your plate. AND YOU WANT MORE. You want more productivity from your work. More income for a better lifestyle. You want more satisfaction from life, and more time. NOW YOU CAN HAVE BOTH—LESS AND MORE.
Thanks for Listening
This information is coming to you to inspire you and drive you forward. Be bigger than you know yourself to be! If you haven't already done so, please take a minute to leave a quick 5-star review rating and honest review on iTunes by clicking here.
Miranda McCroskey – host of Lawpreneur Radio