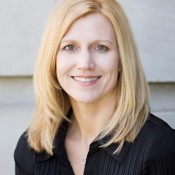 What makes a lawpreneur? Listen in as Valerie Peterson, the CEO of Elder Counsel, shares her challenges and her successes.
Valerie Peterson is the CEO of ElderCounsel, a national organization that provides education, support and a document drafting system for elder law, special needs planning and veterans benefits planning attorneys across the country.
Valerie Peterson has been with ElderCounsel since its beginning in January 2008, first serving as Education Director and Member Liaison, then Executive Director and now CEO. Prior to joining ElderCounsel, Valerie was a practicing elder law attorney in Ft. Lauderdale and Miami, Florida as the owner of Peterson Law Office, P.A.
In her role as ElderCounsel's CEO, Valerie also sets the curriculum for ElderCounsel's education conferences and serves as instructor in several courses, including the Elder Law Immersion and Practice Building Camp and the VA Pension Planning Immersion Camp. Valerie has also taught for NAELA, the Academy of Veterans Pension Planners (AVAPP), and for various state bar associations on topics pertaining to Elder Law, Special Needs Planning and Veterans Benefits. As an adjunct professor for Stetson University Law School, Valerie teaches the Veterans Benefits course to Elder Law LL.M. students.
She is accredited by the Veterans Administration to assist veterans with claims, and is a member of National Academy of Elder Law Attorneys and the Academy of VA Pension Planners.
Sponsors

Elder Counsel is a membership based program. Their passion lies in helping Elder law, special needs planning and veterans pension planning attorneys better serve their clients. They do so by providing education, support, the premier elder law document drafting system and a state of the art office management system, all with the goal of making our member attorneys more knowledgeable, more efficient, and, as a result, more profitable.
Listen to the podcast
Fail fast to succeed faster
Valerie reminds us that to succeed you can't be afraid to fail. Valerie prepared a presentation and only two people showed up – felt like failure at the time, but Valerie learned some valuable lessons.
Tell us something good
Valerie was delivering a presentation on elder law to a large group of people when the power went out. She used the opportunity to move beyond Power Point and really connect with her audience.
What's on your desk?
Valerie is CEO of ElderCounsel.
ElderCounsel serves over 800 law firms
They are a membership based program that educates, trains and serves attorneys in the areas of elder law, special needs, and veteran law.
Favorite Resource
Sales Force:  Sales Force is a Customer relationship management (CRM) and is all about managing the relationships you have with your customers. CRM combines business processes, people, and technology to achieve this single goal: getting and keeping customers. 

Act On:  Act-On cultivates a truly customer-centric culture, led by our Customer Success team and supported by every member of the company.  Their integrated marketing platform is complemented by ever-evolving, best-in-class technologies for tracking and reporting, analysis, lead generation and nurturing, and more. Their success is driven by your satisfaction.
Favorite Quote of the Show in a One Minute Clip
http://traffic.libsyn.com/lawpreneurradio/025_Valerie_Peterson_clip_1_57sec.mp3
Thanks for Listening
This information is coming to you to inspire you and drive you forward. Be bigger than you know yourself to be! If you haven't already done so, please take a minute to leave a quick 5-star review rating and honest review on iTunes by clicking here.
Miranda McCroskey – host of Lawpreneur Radio