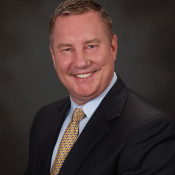 Steve Riley of Atticus, Inc. has coached attorneys for 15 years. His program focuses on a limited number of top producing attorneys committed to taking their practices to new levels of excellence, profit and personal success.  Steve's practice management concepts and techniques have long been utilized by Atticus graduates and other legal organizations, including:
•          Elder Counsel
•          Florida Bar
•          National Network of Estate Planning Attorneys
In addition to being one of the top law firm coaches in the country, Steve is an award-winning, practicing attorney. He built his estate planning practice into a million dollar business using innovative management and marketing skills.  His law firm, The Strategic Counsel, serves high-worth families and entrepreneurs through estate planning, asset protection, elder law and business planning. Steve is also a prolific writer, who has co-authored five books on estate planning.  In addition to these, Steve is an innovator and in 2006, Steve won the National Small Law Firm Practice Innovation Award for his creation of Double Your Revenue™ — a life-changing practice management workshop currently used by Atticus and featured in Lawyers Weekly.
Sponsors


My Case is a web-based legal practice management software built for the modern law firm. Start your free 30 days with My Case today. Tell them Lawpreneur Radio sent you!

Ruby Receptionist is the smart and cheerful team of virtual receptionists trained to make a difference in your day. From their offices in Portland, Oregon, they handle your calls with care. They deliver the perfect mix of friendliness, charm, can-do attitude, and professionalism. Best of all, your callers will think they work in your office. Meet them!
Listen to the podcast
Fail fast to succeed faster
Steve discusses having a high tolerance for failure, the arrogance of not knowing anything about what he was doing and, most importantly, his firm belief in himself.
Listen as Steve tells the story of leaving Personal Injury law because it was overwhelming only to discover that most of his challenges were from not understanding the business side of a practice.  He discovered that where ever he went, there he was.
Hear how he learned that he lacked the skills to say no to clients, to focus and being clear on his niche.
Tell us something good
Listen as Steve shares that his practice was one of the first to create an estate planning maintenance program.
Steve explains the value that he has gotten from creating a client advisory board and the feed back that it provides
What's on your desk?
Steve reminds us that the quality of your practice is defined by the questions you ask yourself about the practice.

Atticus, Inc. currently offers  their one day Double Your Revenue workshop monthly to help you think differently about your practice.
Favorite Books:
The Busy Lawyer's Guide to the Domestic Assistant Advantage
: The Busy Lawyer's Guide to the Domestic Assistant Advantage helps attorneys regain a sense of control over their home lives by teaching how to find, hire, and train a domestic assistant to manage household chores and errands. The strategy has helped many lawyers decrease stress at home while increasing their ability to earn more revenue in their practice.
How Good Attorneys Become Great Rainmakers How Good Attorneys Become Great Rainmakers provides you with an easy, practical action plan that helps you develop the marketing skills and habits needed to attract higher value clients and referral sources. In this book, you'll find 21 Marketing Assets and 5 Marketing Habits that attorneys acquire on their way to becoming successful rainmakers.
The Trusted Advisor This is a guide to professional success. In the modern world of business, it's all about the ability to earn the client's trust and thereby win the ability to influence them. In these high risk times, trust is more valuable then gold. This detailed resource book provides readers with the five crucial steps they need for developing, managing and improving client confidence.
The Alchemist The Alchemist by Paulo Coelho continues to change the lives of its readers forever. Paulo Coelho's masterpiece tells the magical story of Santiago, an Andalusian shepherd boy who yearns to travel in search of a worldly treasure as extravagant as any ever found. The story of the treasures Santiago finds along the way teaches us, as only a few stories can, about the essential wisdom of listening to our hearts, learning to read the omens strewn along life's path, and, above all, following our dreams.
Favorite Quote of the Show in a One Minute Clip
Thanks for Listening
This information is coming to you to inspire you and drive you forward. Be bigger than you know yourself to be! If you haven't already done so, please take a minute to leave a quick 5-star rating and an honest review on iTunes by clicking here.
Miranda McCroskey – host of Lawpreneur Radio