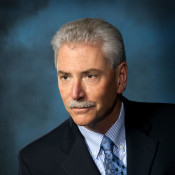 Scott Bailey of Sandler Training by Bailey Marketing Concepts is a 21 year veteran of the global network of Sandler Trainers who are authorized to conduct courses and coaching based on the proven communication concepts around The Sandler Selling System.
The Sandler System's content focuses on these 4 areas:
1. Sales
2. Sales Management
3. Leadership
4. Customer Care
Sandler has been described as a "contrarian" system of selling and is used widely across all industries and is especially embraced by trusted advisors (financial planners, consultants, attorneys, entrepreneurs) because they do not have to sound "salesy" to their potential clients.
Listen to the podcast
Fail fast to succeed faster
Scott tells us how he bought the training business because he enjoyed the sales and business development that were involved.  He subbed out the training to another trainer.  That trainer dropped dead and Scott had to jump in as trainer, and make the business work.
Tell us something good
Hear Scott talk about an immigration attorney that came to him.  This attorney was the "poster child" for unpaid consultant.  He would spend an hour with a potential client on the free consultation and they wouldn't retain.  He had the attorney make one change to his process and he went from closing one out of six potential clients to closing five out of six potential clients.
Scott explains that the power in sales comes from asking questions.
How do you support a Lawpreneur?
Favorite Books:
Think and Grow Rich by Napoleon Hill – Scott reads this book once a year to review the timeless concepts laid down by Hill having to do with Self-improvement and reviewing the winning concepts of very successful people.
Thanks for Listening
This information is coming to you to inspire you and drive you forward. Be bigger than you know yourself to be! If you haven't already done so, please take a minute to leave a quick 5-star review rating and honest review on iTunes by clicking here.
Miranda McCroskey – host of Lawpreneur Radio