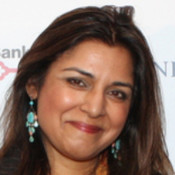 Originally from England, Paramjit Mahli of The Rainmakers Roundtable is a former journalist, emmy judge, author and principal of The Rainmakers Roundtable. Paramjit's focus is creating great results for her clients. She works with professionals when they want to increase sales when they speak, reducing the money that gets left on the table. Paramjit says, "ASK YOURSELF, ARE YOU THE PEACOCK OR JUST ANOTHER PIGEON?"
Listen to the podcast
Fail fast to succeed faster
Listen as Paramjit tells us that after she figured out that speaking would be a great way to get herself out in the public for marketing, it took her a long time to move.  She says that she was scared and told herself that she didn't know how to speak in front of these high powered attorneys she was courting as clients.  Paramjit thinks that not taking action set her back at least two years and had both emotional and financial costs.
Tell us something good
Paramjit tells us that she received her green card under "Alien of Extraordinary Abilities" on her own merits, she did not require a sponsor.
How do you support a Lawpreneur?
Paramjit tells us about her online program: "3 Keys to Rainmaking for attorneys" who  are ready to step into clarity, confidence and control, while leveraging YOUR untapped resources, without spending an extra dime!
Paramjit discusses her VIP Intensive sessions.
She also offers one-on-one coaching.
Paramjit remnids us that for her the success is about her clients getting their desired results.
Favorite Books:
Just Me: A Business Woman's Personal Branding GuideA collaborative effort by some of the leading visionaries, Just Me gives all women unique insights into the exceptional people they really are. Contributing authors include both organizational leaders and entrepreneurs, providing a branding perspective that addresses women's needs from multiple views. These women aren't just familiar with the branding challenges women face in the workplace; they put themselves right in the middle of the fight. Contributors represent organizations such as the Alliance for Women in Media, MBA Women International, American Business Women's Association, Collective Changes, American Women in Science, National Association of Female Executives, National Association of Women Business Owners and much more. These contributing authors have chosen to continue serving women by offering the lessons they've learned with branding and re-branding, all with the purpose of helping women find greater success with strategies that will span their whole career.
Thanks for Listening
This information is coming to you to inspire you and drive you forward. Be bigger than you know yourself to be! If you haven't already done so, please take a minute to leave a quick 5-star review rating and honest review on iTunes by clicking here.
Miranda McCroskey – host of Lawpreneur Radio