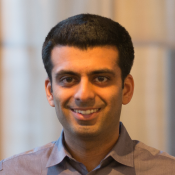 Nehal Madhani is a lawyer, programmer, and the founder and CEO of Plainlegal, whose software automates administrative and repetitive work for lawyers (starting with IP law). Before starting Plainlegal, Nehal practiced at Kirkland & Ellis, LLP. Nehal has a J.D. from the University of Pennsylvania Law School, a Certificate in Business and Public Policy from the Wharton School of Business, and a B.A. from Northwestern University.
Listen to the podcast
Fail fast to succeed faster
Nehal tells us that he spent 3 months more in development time that they needed to get the product out.
Hear how Nehal now hunts for hypotheses and tests them quickly.  When he finds one that works, he doubles down.
Tell us something good
Listen as Nehal explains how PlainLegal.com is supporting thousands of firms since its inception and that the vision is to take the idea to the next level to support even greater numbers of attorneys more effectively.
How do you support a Lawpreneur?
PlainLegal.com provides a streamlined platform for Intellectual Property filings with tools to speed the process.
Nehal also runs the networking group New York Lawyers, which offers help with marketing and education for attorneys.
Favorite Resource
Favorite Books:
The Innovator's Dilemma: The Revolutionary Book That Will Change the Way You Do BusinessThe Innovator's Dilemma is the revolutionary business book that has forever changed corporate America. Based on a truly radical idea—that great companies can fail precisely because they do everything right—this Wall Street Journal, Business Week and New York Times Business bestseller is one of the most provocative and important business books ever written. Entrepreneurs, managers, and CEOs ignore its wisdom and its warnings at their great peril.
Thanks for Listening
This information is coming to you to inspire you and drive you forward. Be bigger than you know yourself to be! If you haven't already done so, please take a minute to leave a quick 5-star review rating and honest review on iTunes by clicking here.
Miranda McCroskey – host of Lawpreneur Radio