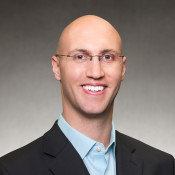 Matt Rinkey founded Illumination Wealth Management to help interesting (busy) professionals lead peaceful and prosperous lives. His clients most often retain him as their Personal CFO. In this role, Matt leads his team at Illumination Wealth in designing personalized wealth plans and providing ongoing support and guidance over his client's entire financial lives.
Listen to the podcast
Fail fast to succeed faster
Listen as Matt tells us that when he worked at a large hedge fund, he realized that people didn't share his philosophy. In 2008, the owner put the kibosh on Matt's efforts.  He realized he wasn't in the right place.
Tell us something good
Matt works with growing successful families.  One of his attorney clients was busy but didn't see his family.  Matt and the client dug deep and figured out what was important to his client.  Then they figured out how much he really needed to be working to be happy and got set on the path to achieve that.
How do you support a Lawpreneur?
Mat explains that he starts from the inside out when working with clients.  He holds himself as coach, adviser and manager all in one.
Matt tells us that he wants his clients to run their financial lives as a successful business.
Favorite Resource
Favorite Books:
How Will You Measure Your Life? From the world's leading thinker on innovation, Clayton M. Christensen, comes an unconventional book of inspiration and wisdom for achieving a fulfilling life. Christensen's The Innovator's Dilemma, notably the only business book that Apple's Steve Jobs said "deeply influenced" him, is widely recognized as one of the most significant business books ever published. Christensen's How Will You Measure Your Life is a book of lucid observations and penetrating insights designed to help any reader—student or teacher, mid-career professional or retiree, parent or child—forge their own paths to fulfillment.
Outliers: The Story of Success Malcolm Gladwell takes us on an intellectual journey through the world of "outliers"–the best and the brightest, the most famous and the most successful. He asks the question: what makes high-achievers different? His answer is that we pay too much attention to what successful people are like, and too little attention to where they are from: that is, their culture, their family, their generation, and the idiosyncratic experiences of their upbringing.
Thanks for Listening
This information is coming to you to inspire you and drive you forward. Be bigger than you know yourself to be! If you haven't already done so, please take a minute to leave a quick 5-star review rating and honest review on iTunes by clicking here.
Miranda McCroskey – host of Lawpreneur Radio