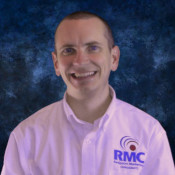 Kevin Jordan is the owner of Redpoint Marketing Consultants and the host of the Small Business Marketing Minute show, a video and audio podcast that teaches simple, affordable, and practical marketing methods to small business owners. He's also a member of the Duct Tape Marketing Consultant Network, and has recently authored a book together with four other consultants in that network entitled Small Business Owner's Guide To Local Lead Generation: Proven Strategies & Tips To Grow Your Business!
. Prior to starting his consulting business, Kevin spent six years as an airline pilot for US Airways Express before leaving that career to become an entrepreneur. He's a native of Indiana and graduate of Purdue University, and currently resides in Farmville, Virginia with his wife Jen.
Listen to the podcast
Fail fast to succeed faster
Early on Kevin tried to sell the same products as all the other marketers were selling.  He quickly learned that didn't work.  When he joined Duct Tape Marketing he found his differentiator because they sold systems that produced results.
Tell us something good
Marketing tips from the show
You must have a rock solid marketing strategy.  That starts with knowing exactly who your customer is.
Take care of your total online presence.  That includes:

Keep your website fresh
Email marketing has to be consistent
Keep creating new content, including FAQs and SAQs (Should Ask Questions).

Repurpose your content.  A blogs can be come a video, podcast, and section of a book.  And, you can do that in any direction, you could turn a video in to a podcast or a book section in to a blog.
Referral marketing (for example BNI, LeTip, ProVisors or other local networking group)
Use direct mail, well done it really does work.
Manage your reputation everywhere, especially online.
Books
Small Business Owner's Guide To Local Lead Generation: Proven Strategies & Tips To Grow Your Business!
With the right strategies and tactics, it's easy to attract and engage more ideal customers right in your backyard – and as a locally owned business, these are the only leads you really care about, anyway. People prefer doing business with folks they know, like, and trust – and they love being able to support local businesses in their own communities. "If you build it, they will come" only works in the movies. You need a simple, surefire way to market your small business… and one that won't break the bank or distract you from your primary role in your business.
Thanks for Listening
This information is coming to you to inspire you and drive you forward. Be bigger than you know yourself to be! If you haven't already done so, please take a minute to leave a quick 5-star review rating and honest review on iTunes by clicking here.
Miranda McCroskey – host of Lawpreneur Radio