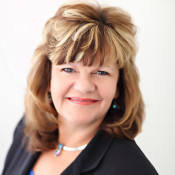 What supports a Lawpreneur? Kathy Dawson serves as Founder and President of Dawson & Dawson, Inc. overseeing the firm's Executive Search, Contracting/Staffing and Business Development. Kathy is a Certified Staffing Professional with over 30 years of experience in Orange County California, Western United States Region and the National market place. Prior to establishing Dawson & Dawson, Kathy served as a Regional Vice President for a National Search and Staffing firm. She managed over 120 staff members while developing a forte' in the Search, Contract and Direct Hire niche of the search and staffing industry. Her early career experience in a Fortune 500 Communications firm taught her the keys to running a successful business.
Kathy has had the pleasure of working with 1000's of clients helping them get the right person at the right time. Kathy's plethora of experience in making quality connections consistently demonstrates results. Her hands on approach and proven track record of recruiting for prestigious clients continue to make her a sought after talent broker. What sets her apart is an ability to develop long term mutually satisfying relationships. Her unique business strategy involves active listening then truly giving clients what they want.
Kathy's passion for helping people made her a natural in teaching the best way to source and service clients. She is a well-known speaker and trainer in the industry, traveling nationally to share her enthusiasm for the Search and Staffing industry. Kathy has served as President for NAWBO-OC (National Association of Women Business Owners Orange County). Recently, she was selected to become a member of the Orange County chapter of WPO (Women President's Organization). Kathy is currently serving as President for WBI (Women's Business Institute) which focuses on providing leadership and education to those in need.
Sponsors


My Case is a web-based legal practice management software built for the modern law firm. Start your free 30 days with My Case today. Tell them Lawpreneur Radio sent you!
Listen to the podcast
Learning Moment
Kathy looks to determine whether a true Partnership is warranted/wanted.  Her team then applies the trademarked and patented processing system that they have developed – It's how they serve clients.
Tell us something good
Kathy applies what they teach clients to her own staff as well.
She goes off facts not emotions when hiring her staff.
She points out that there is danger in high employee turn-over.
Their processing system is her triumph
What's on your desk?
Kathy points out that the unemployment rate nationwide is currently about 6%.  As 3% are unemployable, 3% are left for available jobs and so not only are they competing for positions, employers are competing for candidates.  Lawpreneurs can use Dawson & Dawson to attract paralegals and attorneys.  They will calibrate the employer and open position to determine what's realistic and feasible and then vet candidates.  The vetting process includes conducting background checks and initial interviews.  Dawspon & Dawson also works as a business consultant, for example working with an employer in brainstorming requirements and duties for a new position.
Favorite Resource
Favorite Books:
Traction: Get a Grip on Your Business In Traction, you'll learn the secrets of strengthening the six key components of your business. You'll discover simple yet powerful ways to run your company that will give you and your leadership team more focus, more growth, and more enjoyment.
Favorite Quote of the Show in a One Minute Clip
Thanks for Listening
This information is coming to you to inspire you and drive you forward. Be bigger than you know yourself to be! If you haven't already done so, please take a minute to leave a quick 5-star review rating and honest review on iTunes by clicking here. Miranda McCroskey – host of Lawpreneur Radio