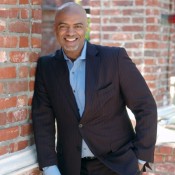 What makes a Lawpreneur? Listen as Jonathan Mason, of Atlanta ShowBizLaw.com,  shares what inspired him to hang out his shingle  as an entertainment lawyer in Atlanta GA – "The Hollywood of the South" and his advice to you on how to get started.
Jonathan Mason, Attorney, Professor, Actor, and Photographer was born and raised in a very small town in Maryland surrounded by farm animals and tobacco fields. He spent summers working in those tobacco fields to raise money for school clothes and other expenses. Jonathan attended Howard University, Stanford, and Georgetown Law, and now has his own firm and has served as a professor of Entertainment Law at Atlanta's John Marshall Law School. Mason Law Group is Atlanta's premier "show business" law firm. Jonathan founded the firm specifically to serve the needs of creative individuals and companies in the music, television, film, theater, dance, art, and publishing industries. Jonathan's practice also includes entertainment-related litigation, including royalty and commission disputes, copyright infringement, and trademark infringement matters. Even as a lawyer, he never lost my love for media. He created and Hosted "Knowledge Booth" on WWWE 1100 AM Atlanta, contributed to "Laying Down The Law" on Germantown Radio in PA. Jonathan appeared in film and TV productions on the on the big screen, The Oprah Winfrey Network, ABC Family Channel, and Lifetime. He was one of 50 "good guys" from across the country hand-picked to appear on Oprah's Best Places to Find Single Men over 35.
Sponsors

Ruby Receptionist is the smart and cheerful team of virtual receptionists trained to make a difference in your day. From their offices in Portland, Oregon, they handle your calls with care. They deliver the perfect mix of friendliness, charm, can-do attitude, and professionalism. Best of all, your callers will think they work in your office. Meet them!
Listen to the podcast
Fail fast to succeed faster
When Jonathan left Big Law he wanted to own his own record label.  One of his early client wanted a choir of back-up singers which turned out to be expensive!  Sadly, his studio was robbed and he lost all his equipment 

and

the musical track they had laid.  It was too much – and he decided to turn his focus back to law.
Tell us something good
One of Jonathan's song-writer clients wrote a song that was perfect for the Fast and Furious movies.  Jonathan was able to get the song to the right people, and it made it in the movie.  Seeing his client's name in the credits of the movie was a victory.
What's on your desk?
Jonathan's practice has followed the Atlanta scene's shift from music to TV and films.
Favorite Resource
Phone.com
Favorite Books: HollyoodReporter.com/esq
Favorite Quote of the Show in a One Minute Clip
http://traffic.libsyn.com/lawpreneurradio/020_Peter_Meyers_clip_1_51_sec.mp3
Thanks for Listening
This information is coming to you to inspire you and drive you forward. Be bigger than you know yourself to be! If you haven't already done so, please take a minute to leave a quick 5-star review rating and honest review on iTunes by clicking here.
Miranda McCroskey – host of Lawpreneur Radio
Jonathan Mason found me on RadioGuestList.com: Get Radio Interview Guests Free at RadioGuestList.com