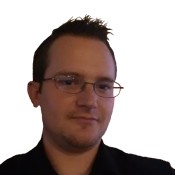 John is the President of ExecuTech Advisors. He advises business owners and other executives on a wide variety of technologies. He will assess his clients' needs and then customize and design a fully comprehensive, impartial solution. You can think of him as a general contractor for IT services. The core verticals focused on are law firms, healthcare, and non-profits.
Sponsors

My Case is a web-based legal practice management software built for the modern law firm. Start your free 30 days with My Case today. Tell them Lawpreneur Radio sent you!

Ruby Receptionist is the smart and cheerful team of virtual receptionists trained to make a difference in your day. From their offices in Portland, Oregon, they handle your calls with care. They deliver the perfect mix of friendliness, charm, can-do attitude, and professionalism. Best of all, your callers will think they work in your office. Meet them!
Listen to the podcast
Fail fast to succeed faster
Hear how early on John spent too much time getting ready to get ready.
John describes that the successes that he was generating were not enough to keep the doors of his business open.
Tell us something good
Recently, John put a firm in the cloud – highly secured – and that improved the efficiency of the business.
John describes how he recently took a client's business out of the cloud and saved that client over $4,000 per month.
What's on your desk?
Setting clients up with cloud based businesses.  This allows start ups to be more efficient more quickly and at lower costs.
John explains that for a start up practice Executech is great for advising.  They act as a broker to bring in the products and then help to provide both day to day support and long term proactive preventative help
Favorite Resource
Favorite Books:
The Law of Success: The Master Wealth-Builder's Complete and Original Lesson Plan forAchieving Your Dreams The Law of Success is the golden key to Hill's thought–his complete and unabridged mind-power method for achieving your goals. After interviewing dozens of industrialists, diplomats, thought leaders, and successful people from all walks of life, the young Hill distilled what he learned into these fifteen core lessons, organized with an introductory chapter, 'The Master Mind,' that serves as a primer to Hill's overall philosophy.
How to Win Friends & Influence People For more than sixty years the rock-solid, time-tested advice in this book has carried thousands of now famous people up the ladder of success in their business and personal lives. Now this previously revised and updated bestseller is available in trade paperback for the first time to help you achieve your maximum potential throughout the next century!
Favorite Quote of the Show in a One Minute Clip
Thanks for Listening
This information is coming to you to inspire you and drive you forward. Be bigger than you know yourself to be! If you haven't already done so, please take a minute to leave a quick 5-star review rating and honest review on iTunes by clicking here. Miranda McCroskey – host of Lawpreneur Radio