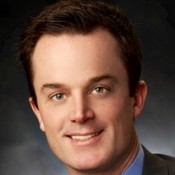 Ian Corzine is Managing Partner of West Corzine, LLP, with offices in Camarillo and Simi Valley, California.  Mr. Corzine focuses his practice on complex litigation cases involving insurance bad faith and insurance coverage as well as business, transportation, and general liability litigation. He obtained his Juris Doctorate degree with Honors from McGeorge School of Law, University of the Pacific and his Bachelor of Arts degree in Communications from University of California, Davis.
Before practicing law, Mr. Corzine was an executive assistant to the Governor of California and studied law and public administration during his stint as a California Executive Fellow. During law school, he was one of five chosen by the United States Attorney's Office to work as a student federal prosecutor. After law school, Mr. Corzine worked as a Judicial Law Clerk for the Hon. Peter A. Nowinski of the U.S. District Court for the Eastern District of California.
In recent years, Mr. Corzine has authored numerous insurance law-related articles in trade association publications. In addition to being an active trial lawyer, Mr. Corzine is a frequent speaker at CEB events and presentations. He is also an active member in both the Los Angeles and Ventura County Bar Associations
Sponsors

Ruby Receptionist is the smart and cheerful team of virtual receptionists trained to make a difference in your day. From their offices in Portland, Oregon, they handle your calls with care. They deliver the perfect mix of friendliness, charm, can-do attitude, and professionalism. Best of all, your callers will think they work in your office. Meet them!

Elder Counsel is a membership based program. Their passion lies in helping Elder law, special needs planning and veterans pension planning attorneys better serve their clients. They do so by providing education, support, the premier elder law document drafting system and a state of the art office management system, all with the goal of making our member attorneys more knowledgeable, more efficient, and, as a result, more profitable.
Listen to the podcast
Fail fast to succeed faster
Ian tells us how he took on the role of being the ultimate manager for too long.
Hear how Ian was challenged in getting the mix of marketing and the practice of law.
Tell us something good
Listen as Ian tells us how as his life got bigger he thought more about profit margins;  ultimately helping his clients is the main focus of his attention.
What's on your desk?
Bad faith insurance disputes;
Helping businesses with claims against insurance companies.
Favorite Resource
Favorite Books:
Loopholes of the Rich: How the Rich Legally Make More Money and Pay Less Tax Loopholes of the Rich helps Americans from all walks of life use the same tax loopholes that the wealthy use to lower their tax bill. With this handy guide, you won?t need an accountant to find quick and easy ways to pay less. And there?s nothing unethical about these tax loopholes. In fact, the government wants you to take advantage of them!
Smart Negotiating: How to Make Good Deals in the Real World If you've ever tried to make a deal, reach an agreement, close a sale, or negotiate in everyday business, Smart Negotiating shows you how to avoid the pitfalls and achieve your goals.
James C. Freund is a skilled, seasoned lawyer who negotiates for a living, and the techniques he presents in Smart Negotiating have been proven effective in real-world bargaining situations.
Favorite Quote of the Show in a One Minute Clip
Thanks for Listening
This information is coming to you to inspire you and drive you forward. Be bigger than you know yourself to be! If you haven't already done so, please take a minute to leave a quick 5-star review rating and honest review on iTunes by clicking here.
Miranda McCroskey – host of Lawpreneur Radio