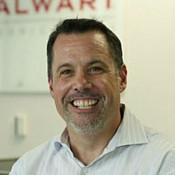 What makes a Lawpreneur? Join us as David Oates, founder and president of Stalwart Communications, shares his journey.
David is a 20-year marketing and public relations veteran who holds extensive experience in developing as well as executing successful and measurable programs for a wide range of agency, corporate and government organizations. Prior to founding Stalwart Communications in 2006, David was Marketing Director for Financial Profiles, a 35-year old financial planning software company based in Carlsbad, California, where he directed all marketing-related strategies and programs, including lead generation, partner/reseller, customer/sales support, brand enhancement, public relations, competitive analysis and market strategy/situation analysis programs.
He also draws great strength from his days as a U.S. Navy combat and public affairs officer, where he honed his skills in leadership and corporate communications in various forward deployed operations, including Haiti, Hong Kong and the Middle East.
Sponsors


My Case is a web-based legal practice management software built for the modern law firm. Start your free 30 days with My Case today. Tell them Lawpreneur Radio sent you!
Listen to the podcast
Fail fast to succeed faster
Listen as David discusses that it doesn't work to take on every potential client that comes through the door and how undoing past choices took away from growing his business.
Tell us something good
Hear how David developed his business on the Pay on Performance model and how that has helped to accelerate his business and the business of his clients.
David talks about the importance of a peer level power group in developing new ideas and handing tough business choices in a confidential venue outside the office.
Favorite Resource
The Flipboard App to aggregate news from all over the world.
TGG Accounting (Outsourced Account Firm)
Professional support for the business (e.g. insurance agents)
Favorite Quote of the Show in a One Minute Clip
Thanks for Listening
This information is coming to you to inspire you and drive you forward. Be bigger than you know yourself to be! If you haven't already done so, please take a minute to leave a quick 5-star review rating and honest review on iTunes by clicking here. Miranda McCroskey – host of Lawpreneur Radio