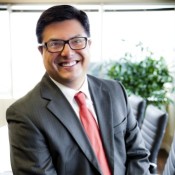 What makes a Lawpreneur?  Daniel Gamez of the Gamez Law Firm is an attorney in San Diego focusing exclusively on debt settlement as an alternative to bankruptcy.  Mr. Gamez has a long history of service to the community first as an advocate for juvenile services both as a youth counselor and as a probation officer successfully rehabilitating juveniles. Now Mr. Gamez is committed to helping families in fighting creditors, reducing the total amount owed, and providing his clients with a life free of debt through debt settlement.
Sponsors

Ruby Receptionist is the smart and cheerful team of virtual receptionists trained to make a difference in your day. From their offices in Portland, Oregon, they handle your calls with care. They deliver the perfect mix of friendliness, charm, can-do attitude, and professionalism. Best of all, your callers will think they work in your office. Meet them!
Listen to the podcast
Fail fast to succeed faster
Listen as Daniel talks about how he wasn't succeeding in his old firm at the level that he needed to survive and thrive.  He saw that he had to take control.
Daniel reminds us that we have to beware of putting too much trust in other people.
Hear how Daniel got over the fear of being on his own.
Tell us something good
Daniel explains that he gauges success by what he is doing for his clients, not what he's bringing in.

As an example, he had an elderly man with $39,000 in debt owed.  He was able to reduce that to $4,000.
What's on your desk?
Daniel points out that any debt not secured by property is negotiable.

This includes student loans, where he has been getting great results.
Favorite Resource
My Case is a web-based legal practice management software built for the modern law firm. Start your free 30 days with My Case today. Tell them Lawpreneur Radio sent you!
Networking – Especially Provisors
Speaking engagements
Favorite Quote of the Show in a One Minute Clip
Thanks for Listening
This information is coming to you to inspire you and drive you forward. Be bigger than you know yourself to be! If you haven't already done so, please take a minute to leave a quick 5-star review rating and honest review on iTunes by clicking here. Miranda McCroskey – host of Lawpreneur Radio