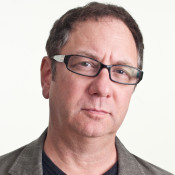 Chuck Bankoff is Founder and Director of Web Services for Kreative Webworks, a full service digital marketing agency since 1999. Chuck is a speaker and author and has trained other marketing consultants in the UK, Australia, South Africa, Spain, Amsterdam, South America, Canada, and the US in a vast array of Digital Marketing concepts and techniques. He's spoken at numerous digital marketing conferences across the world, written papers and books on topics such as Landing Page Design, Reputation Management, and Managing the Creative Process. His team has won a variety of awards including "Creative Excellence for Website Design", and most recently the "People's Choice" award for best website. Chuck directs a team of creative and technical professionals to develop business ready web solutions for their clients, essentially becoming their digital marketing department, taking care of their website, search engine marketing, social media management and reputation management.
Listen to the podcast
Fail fast to succeed faster
Chuck tells us that everyday is an opportunity to fail at something new – especially in the internet business.
Listen in as Chuck tells us the story of working with a dental malpractice attorney.  Chuck reviewed the attorneys statistics and saw that while the phone was ringing the leads weren't qualified, so talking to them wasn't a good use of the attorney's time.
Tell us something good
Chuck  says that he has found success in offering his clients a full-service package.  Basically they become their clients' digital marketing department.
How do you support a Lawpreneur?
Chuck tells us that Kreative Webworks can become your outsourced digital marketing team.  This includes:

Website Design and management.
Online reputation protection.
Branding.
Blogging and website content creation.
Favorite Resource
Chuck tells us that they use Google Analytics and AdWords along with a variety of proprietary tools to manage their clients digital foot print.
Thanks for Listening
This information is coming to you to inspire you and drive you forward. Be bigger than you know yourself to be! If you haven't already done so, please take a minute to leave a quick 5-star review rating and honest review on iTunes by clicking here.
Miranda McCroskey – host of Lawpreneur Radio