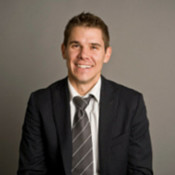 Christopher Small of The Art of Lawyering and Emerald City Law Group started his law firm in 2009 with no contacts, no list, and no network after moving to Seattle from Kansas. He couldn't find any good resources for starting a law firm so he started his own, The Art of Lawyering, where he talks about how to start and run a profitable law firm.
Listen to the podcast
Fail fast to succeed faster
Chris tells us that he has daily failures.  He has new ideas and sees everything as an experiment.  A recent example he gave was hanging an "Attorney" sign in a farmers market booth and answering questions.  It didn't necessarily result in business but it was an interesting experiment none the less.
Tell us something good
Chris says that he loves seeing other people break out of the fear-cycle and move in their life.
Listen as Chris describes Emerald City Law Group as his "dream-realization" machine.
What's on your desk?
Chris' role in the firm is focused more on the client experience and the firm experience.  He works with other attorneys who are focused on the law.
Chris tells us his weekly process based on Pete Carroll's process:

Marketing Mondays
Networking Tuesdays
Content Wednesdays
Process Thursdays
Financial Fridays

Chris discusses his Podcast the Art of Lawyering and the membership group Law Firm Confidential that he founded.
Chris tells us about his morning ritual and how it sets the tone for his day.
Favorite Resource
Favorite Books:
The Slight Edge: Turning Simple Disciplines into Massive Success and HappinessThe Slight Edge is a way of thinking, a way of processing information that enables you to make the daily choices that will lead you to the success and happiness you desire. Learn why some people make dream after dream come true, while others just continue dreaming and spend their lives building dreams for someone else. It's not just another self-help motivation tool of methods you must learn in order to travel the path to success. It shows you how to create powerful results from the simple daily activities of your life, by using tools that are already within you.
Thanks for Listening
This information is coming to you to inspire you and drive you forward. Be bigger than you know yourself to be! If you haven't already done so, please take a minute to leave a quick 5-star review rating and honest review on iTunes by clicking here.
Miranda McCroskey – host of Lawpreneur Radio