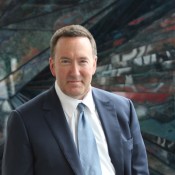 Bennet Kelley is the founder of the Internet Law Center in Santa Monica.  He is a past co-chair of the California Bar Cyberspace Committee and was recently named by the Los Angeles Business Journal as one of the most influential attorneys in E-Commerce and Digital Media.  Bennet is also the host of Cyber Law and Business Report which airs Wednesdays at 10AM PT on WebmasterRadio.fm.  Bennet will be presenting on the latest developments in Internet Law at the California Bar IP Section's IP Institute, drawn from "Cyberspace Law and Policy: A Primer for State Policymakers" which he co-authored, on November 6 at the Hyatt Regency Orange County.
Sponsors

Ruby Receptionist is the smart and cheerful team of virtual receptionists trained to make a difference in your day. From their offices in Portland, Oregon, they handle your calls with care. They deliver the perfect mix of friendliness, charm, can-do attitude, and professionalism. Best of all, your callers will think they work in your office. Meet them!

The Center Club is where leaders share camaraderie, celebrate traditions and build business relationships to help our community and the nation move forward. Reconnect to your business with our efficient, high-quality networking and business advantages, or relax for a fine-dining experience.
Listen to the podcast
Fail fast to succeed faster
Listen as Bennet tells us how getting a client is one thing and getting paid for the work is another thing.
Tell us something good
Bennet tells us that good relationships often lead to good results.  He specifically discusses how a courtesy call from the FTC regarding one of his clients lead to the investigation being closed.
What's on your desk?
Hear how Bennet considers himself to be hyphenated; he both practices law and does his radio show.
Bennet discusses becoming an influencer in that space
Favorite Resource
Favorite Books:
The Art Of WarTwenty-Five Hundred years ago, Sun Tzu wrote this classic book of military strategy based on Chinese warfare and military thought. Since that time, all levels of military have used the teaching on Sun Tzu to warfare and cilivzation have adapted these teachings for use in politics, business and everyday life.
Cyberspace Law and Policy: A Primer for State Policymakers – Co-Authored by Bennet Kelley
Favorite Quote of the Show in a One Minute Clip
Thanks for Listening
This information is coming to you to inspire you and drive you forward. Be bigger than you know yourself to be! If you haven't already done so, please take a minute to leave a quick 5-star review rating and honest review on iTunes by clicking here.
Miranda McCroskey – host of Lawpreneur Radio