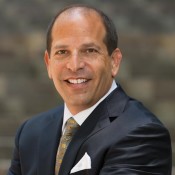 Barry Goldberg of Barry P. Goldberg, A Professional Law Corporation is in his 30th year of practice and his small firm is growing rapidly thanks to an intelligent content marketing strategy.
Listen to the podcast
Show Highlights
Barry tells us that when he went on his own, he assumed business would come to him because he was a great lawyer.
Listen as Barry explains how he did it all when he first went out on his own.  After a conversation with a colleague Barry figured out that he had created a job practicing law not a business that could be developed.
Barry says that he comes from a generation of attorneys that thought advertising was crazy and that having a website was crazier still.
Hear Barry discuss how his turning point on advertising came when he started listening to the ideas of people promoting content marketing.  Barry says that he came to focus on uninsured and under-insured motorists.
Barry explains that he started blogging on uninsured/under-insured motorists following the lead of Kristen Marquis Dennis from WebPresence, ESQ.
Early on Barry wrote all of the content himself, though he does acknowledge that he doesn't write all of it today.
About three years ago Barry started getting phone calls from people wanting to meet him and have him handle their case that had found him through his website and his organic search results.
Barry tells a great story of how he became such a strong believer in AVVO!
Thanks for Listening
This information is coming to you to inspire you and drive you forward. Be bigger than you know yourself to be! If you haven't already done so, please take a minute to leave a quick 5-star review rating and honest review on iTunes by clicking here.
Miranda McCroskey – host of Lawpreneur Radio