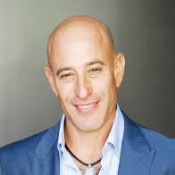 Adam Markel is the CEO of New Peaks and the author of the new book Pivot.  New Peaks, an international training firm, has delivered world-class educational programs to more than 1 million people, in over 104 countries.  Prior to his position as CEO, Adam was the Senior Trainer with Peak Potentials and has personally trained more than 100,000 people in the United States, Southeast Asia, Canada, Europe and Australia. In addition, Adam is a keynote speaker for groups and conferences around the world.  Adam is a recognized expert in the integration of business and personal transformation  Prior to his work with New Peaks, Adam spent two years teaching Junior High School English, founded a successful commercial real estate investment firm and went to law school – where he passed the bar on his first time.
After law school, Adam founded a multi-million dollar law firm specializing in finance, commercial and employment litigation.  Over the course of his 17 year practice, Adam represented over 1000 matters, with hundreds of clients including Citybank, Wachovia and HSBC.
Currently Adam lives in Carlsbad, California where one of his greatest joys has been raising four amazing children with his wife Randi.
Listen to the podcast
LIBSYN
Show Notes
Adam shares his journey from unhappy, cynical and skeptical lawyer to recovering attorney and Owner/CEO of New Peaks.
Hear Adam tell us the genesis of his new book Pivot.
Miranda and Adam discuss the concept of really loving your life.
Adam talks about his shift to living a conscious life and how that has lead to living a life of service.
Part one finishes with Adam explaining the concept that great teachers are great students and that learning and growing are life long pursuits.
Part two will release on May 9, 2016.
Books Mentioned by Adam in this interview:
Thanks for Listening
This information is coming to you to inspire you and drive you forward. Be bigger than you know yourself to be! If you haven't already done so, please take a minute to leave a quick 5-star review rating and honest review on iTunes by clicking here.
Miranda McCroskey – host of Lawpreneur Radio