What makes a Lawpreneur?  Listen as Amy Montes of Montes Family Law shares what inspired her to hang out her shingle, and her advice to you.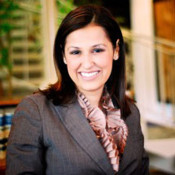 Amy Montes graduated from Whittier Law School in 2005 and since, has devoted most of her practice to obtaining results for hundreds of clients in the area of family law. She is well recognized for her advocacy and leadership abilities, and hands on dedication to her clients.  Amy Montes has earned a reputation for helping clients resolve their difficult legal issues through a balanced, holistic approach. Her dedication and professionalism contributed to her being named one of 2009′s Who's Who in Orange County in Orange County Lawyers magazine.
The lawpreneur's "Oh, man!"
Amy explains why she is so careful to manage her clients hopes and expectations as to the results of their cases.
…and "Oh, yeah!":
Listen as Amy shares how a judge likened himself to the umpire on a baseball field, and applauded Amy as a great coach.
Current Business:
Amy focuses on family law matters such as child custody and child support orders, restraining orders, and all forms of divorce.
Favorite Resource:
USA RingCentral Office – Voice, Fax, Text and Conferencing. Your phone system in the cloud.
Dropbox – Dropbox is a free service that lets you bring your photos, docs, and videos anywhere and share them easily. Never email yourself a file again!
Best Read:
The Secret

Fragments of a Great Secret have been found in the oral traditions, in literature, in religions and philosophies throughout the centuries. For the first time, all the pieces of The Secret come together in an incredible revelation that will be life-transforming for all who experience it.
In this book, you'll learn how to use The Secret in every aspect of your life — money, health, relationships, happiness, and in every interaction you have in the world. You'll begin to understand the hidden, untapped power that's within you, and this revelation can bring joy to every aspect of your life.
The Power (The Secret)
:  The Secret revealed the law of attraction. Now Rhonda Byrne reveals the greatest power in the universe – The Power to have anything you want. In this book you will come to understand that all it takes is just one thing to change your relationships, money, health, happiness, career, and your entire life. Every discovery, invention, and human creation comes from The Power. Perfect health, incredible relationships, a career you love, a life filled with happiness, and the money you need to be, do, and have everything you want, all come from The Power. The life of your dreams has always been closer to you than you realized, because The Power – to have everything good in your life – is inside you. To create anything, to change anything, all it takes is just one thing… THE POWER.