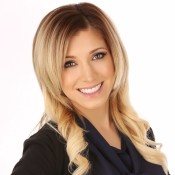 Alexandra Baron, Esq. is an attorney and founder of The Mindful Divorce, a law firm specializing in divorce mediation. Alexandra utilizes research-based mindfulness techniques and cutting-edge technology to reduce conflict so that families can begin to heal and individuals can begin moving forward in their lives.
Listen to the podcast
Fail fast to succeed faster
Allie knows she learns through her experience.  When Allie was getting her website developed she learned that she wasn't clear on what she wanted, and that lack of clarity was causing the unsatisfactory results.  Once she got clear, she got what she wanted.
Allie points out that you either "Learn to fail or you will fail to learn."
Tell us something good
Allie tells us that her biggest success was overcoming her fear of inadequacy and just jumping in and doing it.
What's on your desk?
In The Mindful Divorce Allie focuses on clarity.  She has adopted a module based fixed pricing policy based on a purely mediated approach to divorce.  All of the process takes place outside of court.
Favorite Resource
Favorite Books:
The 4-Hour Workweek, Expanded and Updated: Expanded and Updated, With Over 100 New Pages of Cutting-Edge Content. Some of you might think, as the corporate attorney I lunched with recently said, "Four-hour workweek? Is that a thing?" but Tim's premise is my goal and aspiration.  To be "locationally independent," use virtual assistants, and take intermittent retirement sounds awesome to me!
The Slight Edge: Turning Simple Disciplines into Massive Success and HappinessThe Slight Edge is a way of thinking, a way of processing information that enables you to make the daily choices that will lead you to the success and happiness you desire. Learn why some people make dream after dream come true, while others just continue dreaming and spend their lives building dreams for someone else. It's not just another self-help motivation tool of methods you must learn in order to travel the path to success. It shows you how to create powerful results from the simple daily activities of your life, by using tools that are already within you.
Thanks for Listening
This information is coming to you to inspire you and drive you forward. Be bigger than you know yourself to be! If you haven't already done so, please take a minute to leave a quick 5-star review rating and honest review on iTunes by clicking here.
Miranda McCroskey – host of Lawpreneur Radio